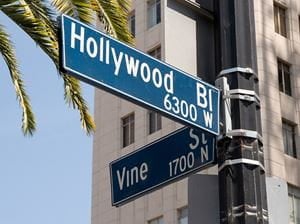 Shutterstock.com
Ahh, good ol' Hollywood. We know you from your titillating scandals, titillating feuds, titillating gossip and fun exploits. The actors that we pursue and the news buzz about reality stars. We watch their every move and try to understand their decisions. Believe it or not, the people in Hollywood are still human and are flawed like the rest of us. They get depressed, they get sick, they get divorced and they have family disputes. The only difference is that they are closely monitored by TMZ and many people crave to be like them. There are always hidden morsels of wisdom we can gain from our public figures. Yes, even from the ever enlightening Kardashians. Get set to embark on something note quite salacious. Here is what you can learn from the famous.
Mind your own business.
When it comes to family, we stick together. Siblings may have disagreements, but at the end of the day of someone messes with them, we get involved in protecting their interests. This can be dangerous when they are dating someone as you naturally want to take their side. Most of the time, the couple works it out and the rest of the family are still fuming. Remember Rob Kardashian's relationship with Blac Chyna? Those two never stop fighting and so the entire family gets involved. Kim said in "Keeping Up With the Kardashians " that Chyna and Rob both were sending mean texts and it was getting out of hand. "I don't know, I mean she texts him crazy things, he texts her crazy things all night long," Kim said exasperatedly. The best bet here is to not involve yourself in another person's love life. Why? They usually reconcile and you are the one left upset!
Follow your heart.
Sometimes you have to follow your heart and speak up when you are burdened. Actress Meryl Streep spoke about the presidential election of 2016. Particularly, Donald Trump, who she believed mocked disabled New York Times reporter Serge F. Kovaleski during his campaign. Although the incident has been disputed, Streep used her platform to hit Trump back. Streep was honored at the Golden Globes for a lifetime of notable work and said: "This instinct to humiliate, when it's modeled by someone on the public platform, by someone powerful, it filters down into everybody's life, because it kind of gives permission for other people to do the same thing." If something is really gnawing at your heart, take action. You might not be able to do much, but you can do your part.
Put on a united front for others.
We know that not all marriages last and after 10 years together Angelina Jolie divorced Brad Pitt citing irreconcilable differences. Of course, rumors surfaced that Pitt's substance abuse was at the root of the separation, but this was not substantiated. The both decided to seal the court records and to see a private judge to protect the privacy their 6 kids. For the most part, the couple has been silent regarding the split. When they were seen in public the family showed a united front so the children would feel secure. When going through a nasty split, it is easy to behave out of emotion. You need to think of others first to avoid causing more damage. In this case, it was to protect the children. Think before you act.
Be a humble helper.
Actor Steve Buscemi was a firefighter in New York City before he became well-known for films like "Reservoir Dogs" and "Fargo." After the devastating attack on America on 9/11, the actor went back and pulled 12-hour shifts with FDNY Engine 55 to help the firemen find survivors. The reason the public knows very little of this is because Buscemi didn't want the publicity. He later said that "it was a privilege to be able to do it. It was great to connect with the firehouse I used to work with and with some of the guys I worked alongside." If we are going to do something for someone, we don't need to shout it from the rooftops. By serving people quietly, we become giants in a sense.
Follow your passion.
Director Steven Spielberg was rejected 3 times from the University of Southern California School of Cinematic Arts because of poor grades. He started to look for work and got a position with Universal Studios. Eventually, he was able to show executives a short film that he directed and they signed him. Over 30 movies later, Spielberg is one of the best directors of his generation. You will be rejected, like Spielberg. However, when you feel like that you have nothing left, that is when you have to dig in and find more strength. Even if you never accomplish your dreams like you want them, giving up is not an option.
Find time to get away.
When Actress Selena Gomez was diagnosed with the autoimmune disease lupus, it was hard for her in the beginning.
She had to undergo chemotherapy and was crushed by the press for canceling shows. Gomez struggled to deal with the illness and the effects of it like depression. In order to process everything, she retreated so she could think. She acknowledged that she needed to adjust things in her life. "I've shown who I am but I need to rethink some areas of my life creatively and personally." Just like Gomez, we need to learn that we can't solve everything at once. By getting away from the distractions, we can better assess the situation and think clearer.
We are all human and we all struggle in life like anyone else. There are those stars who are givers, those who are sick, those who have failed marriages and those who speak their minds. We don't have to agree with them or even like them. However, we definitely can glean something from celebrities. Whether it is good or bad, it is up to us.