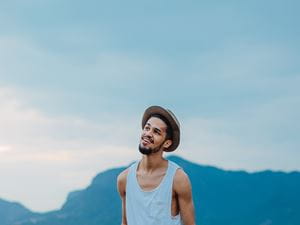 unsplash.com
The beginning of the Declaration of Independence makes an interesting statement: "We hold these truths to be self-evident, that all men are created equal, that they are endowed by their Creator with certain unalienable Rights, that among these are Life, Liberty and the pursuit of Happiness."
The writers believed that the right to happiness didn't need an explanation. In 1776, though, the world was much different. The founding fathers of our country wouldn't even recognize the world we build today. We live in a world today that is obsessed with the pursuit of happiness, but in a different way. Today the words "happy" or "happiness" have become watered down, speaking more to a temporary mood or shallow state of being.
The Bible talks about happiness, but defines it differently than our culture. When the Bible mentions happiness, it is speaking of something that is self-contained. The happiness the Bible advocates isn't dependent on circumstances, but is instead an everlasting feeling of peace and serenity. Pursuing happiness in the Bible does not mean pursuing your own desires at the expense of others, or at odds with God's way. It does not say the pursuit of pleasure or materialism. Solomon makes it clear that these things are only pointless vanity.
God wants us to pursue happiness. Not dependent on circumstances, the people around us, or the things we own. Our human nature tends to lead us away from the very actions and thoughts that will produce lasting joy, and causes us to chase after things that give us fleeting fun and happiness.
Since joy is a product of God's spirit, the short answer is that we will have joy when we have and use His spirit. When we are looking outward to see others' needs, studying and putting His words into practice, staying close to Him in daily prayer, and answering our calling to be a reflection of our Father in our day-to-day lives.
One aspect of happiness that the bible does talk about is synonymous with God's blessing. God's Word tells us that we will be blessed, or happy, if we're seeking Him and following His commandments. The bible emphasizes joy. Joy, rejoice, and similar words are used hundreds of times in the bible. The Psalms and Proverbs are full of direction on joy.
Fun is temporary, an experience, often shared with others. It's an outward experience, while joy and contentment come from within. Many people spend their lives in the pursuit of fun, and are some of the unhappiest people you know, because fun is fleeting. However when you set your heart on God, that enjoyment you feel does not disappear. You feel at peace.
God does not expect you to be happy all of the time, and knows that you will face struggles in life. You can feel sad about things going on in the world, but at the same time when you have a heart full of God you won't lose your faith or confidence in Him. You will have an ongoing peace that with Him you will be able to overcome anything that might steal away your happiness temporarily.
The Bible is chock-full of verses that clearly lay out a path for pursuing happiness.
"Now may the God of hope fill you with all joy and peace in believing, that you may abound in hope by the power of the Holy Spirit." (Romans 15:13)
"And the ransomed of the Lord shall return, and come to Zion with songs and everlasting joy upon their heads. They shall obtain joy and gladness, and sorrow and sighing shall flee away." (Isaiah 35:10)
"The joy of the Lord is your strength." (Nehemiah 8:10)
"Therefore we also, since we are surrounded by so great a cloud of witnesses, let us lay aside every weight, and the sin which so easily ensnares us, and let us run with endurance the race that is set before us, looking unto Jesus, the author and finisher of our faith, who for the joy that was set before Him endured the cross, despising the shame, and has sat down at the right hand of the throne of God." (Hebrews 12:1-2)
"My brethren, count it all joy when you fall into various trials, knowing that the testing of your faith produces patience." (James 1:2-3)
"You have multiplied the nation and increased its joy; they rejoice before You according to the joy of harvest, as men rejoice when they divide the spoil." (Isaiah 9:3)
"The hope of the righteous will be gladness, but the expectation of the wicked will perish." (Proverbs 10:28)
"Go, eat your bread with joy, and drink your wine with a merry heart; for God has already accepted your works." (Ecclesiastes 9:7)
"For His anger is but for a moment, His favor is for life; weeping may endure for a night, but joy comes in the morning." (Psalm 30:5)
"For the kingdom of God is not eating and drinking; but righteousness, and peace, and joy in the Holy Spirit." (Romans 14:17)
"Whom having not seen you love. Though now you do not see Him, yet believing, you rejoice with joy inexpressible and full of glory, receiving the end of your faith—the salvation of your souls." (1 Peter 1:8-9)
"Not that I speak in regard to need, for I have learned in whatever state I am, to be content: I know how to be abased, and I know how to abound. Everywhere and in all things I have learned both to be full and to be hungry, both to abound and to suffer need. I can do all things through Christ who strengthens me." (Philippians 4:11-13)
"Honor and majesty are before Him; strength and gladness are in His place." (1 Chronicles 16:27)
"Rejoice with those who rejoice, and weep with those who weep." (Romans 12:15)
"Now godliness with contentment is great gain. For we brought nothing into this world, and it is certain we can carry nothing out. And having food and clothing, with these we shall be content." (1 Timothy 6:6-8)
"Is anyone among you suffering? Let him pray. Is anyone cheerful? Let him sing psalms." (James 5:13)
"These things have I spoken to you, that My joy may remain in you, and that your joy may be full." (John 15:11)
"Until now you have asked nothing in My name. Ask, and you will receive, that your joy may be full." (John 16:24)
"Oh, taste and see that the Lord is good; blessed is the man who trusts in Him! (Psalm 34:8)
"He who heeds the word wisely will find good, and whoever trusts in the LORD, happy is he." (Proverbs 16:20)
"You lust and do not have. You murder and covet and cannot obtain. You fight and war. Yet you do not have because you do not ask." (James 4:2)
"His lord said to him, "Well done, good and faithful servant; you were faithful over a few things, I will make you ruler over many things. Enter into the joy of your lord." (Matthew 25:21)
"For God gives wisdom and knowledge and joy to a man who is good in His sight; but to the sinner He gives the work of gathering and collecting, that he may give to him who is good before God. This also is vanity and grasping for the wind." (Ecclesiastes 2:26)
"Delight yourself also in the Lord, and He shall give you the desires of your heart." (Psalm 37:4)
"Those who sow in tears shall reap in joy." (Psalms 126:5)
"Nothing is better for a man than that he should eat and drink, and that his soul should enjoy good in his labor. This also, I saw, was from the hand of God." (Ecclesiastes 2:24)
"Happy are the people whose God is the LORD!" (Psalm 144:15)
"You will show me the path of life; in Your presence is fullness of joy; at Your right hand are pleasures forevermore." (Psalm 16:11)
"Where there is no revelation, the people cast off restraint; but happy is he who keeps the law." (Proverbs 29:18)
"Therefore, having been justified by faith, we have peace with God through our Lord Jesus Christ, through whom also we have access by faith into this grace in which we stand, and rejoice in hope of the glory of God." (Romans 5:1-2)
"Rejoice in the Lord always. Again I will say, rejoice!" (Philippians 4:4)
"Blessed are the peacemakers, for they shall be called sons of God." (Matthew 5:9)
"Blessed are those who mourn, for they shall be comforted." (Matthew 5:4)
If you struggle with feelings of happiness, it is easy to read through verses and wonder how you are supposed to get that feeling yourself. If you don't "feel" happy that doesn't mean you don't have God's favor, or that you are doing something wrong. The Bible is a place many people turn to when looking for advice, guidance, and instruction on how to live life. Continue to study it and put its words into action so that you can find the peace and joy you need in your heart.