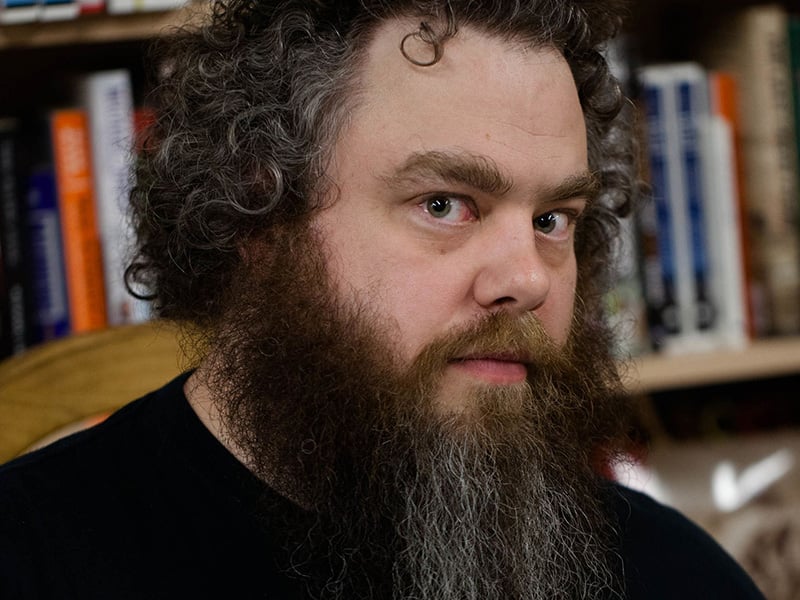 Empathy is impossible to teach. Rather, it must be shown.
Patrick Rothfuss is author of the Kingkiller Chronicle, a fantasy trilogy that follows the life, legend, and transformation of a gifted young man named Kvothe as he tells the story of his life, and is changed in the telling.
Rothfuss's novels, the first of which was released in 2007, are widely recognized as the best of their kind, selling more than 10 million copies worldwide and garnering a huge and devoted fan following.
Few authors can make music of words and symphonies of paragraph and plot like Rothfuss can. To read his words on the page is to engage in a beautiful dance with them.
But even fewer authors possess the quality of empathy that Rothfuss does. To hear his heart is to learn from it.
Patrick Rothfuss channels that empathy most notably into Worldbuilders, a charity, founded by himself, that uses "the collective power of readers, fellow authors, and book lovers, to make the world a better place."
Worldbuilders raises funds for a small handful of other charities, most notably Heifer International, which works to end hunger and poverty around the world by providing "resources and training for struggling small-scale farmers in order to give them a chance to change their circumstances." Heifer International's focus, admirably, is on creating self-reliance within communities that can sustainably alleviate poverty.
Beliefnet has been extended the opportunity to speak with Rothfuss about his charity, about what happens with the funds donated to it, and about the importance of empathy, giving, and the alleviation of human suffering.
So let's take a moment and peer into the heart and mind of Patrick Rothfuss. The man is so much more than the fantastical world he's built within our imaginations.
"As names have power, words have power. Words can light fires in the minds of men. Words can wring tears from the hardest hearts."
-The Name of the Wind
What personally led you to found Worldbuilders?
"Well, I was first published back in 2007, and I that's when the hardcover of my book came out. A year later, when the paperback came out, I thought I would hold a little contest on my blog to see if people would take pictures of themselves with the new book, you know? Because by then I had been writing the blog for a year—it was kind of fun, it just a goofy thing, and I figured if worse comes to worst, I would fake up a couple of pictures and give away a few fake prizes and whatever, but I figured I had a decent chance of getting at least, you know, 8 or 10 pictures.
So I launched that off and I got hundreds of pictures from people from all over the world. They were dressing up and they were on rooftops and they were making dioramas and it was really kind of crazy—I did not know how many people read my blog.
We got hundreds of pictures and I posted them up in my blog, and then, of course, I thought, 'What I can do next?' It would be fun to goof off with my fans.
And then I thought, 'Maybe I could do something other than stroke my ego'. And that's when I decided to try to raise some money for charity.
Heifer International's website let you make a little fundraising page, so I did that and I said 'Hey everyone, Heifer is my favorite charity; if you donate, I'll match those donations for a month.' I was kind of hoping to maybe raise 5 thousand dollars, but we raised 5 thousand in just 2 days.
And so I talked to my girlfriend—I'm like, 'Can we do more? How do you feel?' I figured this was the initial rush of people being kind of excited. And I'm like, 'Let's bump it up to 7,500 dollars,' and then it was 10,000 and then it was 15,000, and then other authors started offering books that I could give away as prizes.
Neil Gaiman Tweeted about it, you know. So we raised like 55,000 dollars that year, and I went broke.
I've been broker before, but never for a good reason like this."
So you ended up using most of your own money that first year?
"I literally used all of my own money. I said I would match donations for a month, and by the end of that month, we had raised 55,000 dollars, and that was like every bit of money I had in the bank.
It actually was a problem. Like I said, I was a new author, and I didn't realize that they didn't take taxes out of your royalties. As an author, you have to pay self-employment tax as well. So I owed a lot of taxes—I had never made more than 14-15k a year in my life before I was an author, so I had never paid in any significant amount of tax.