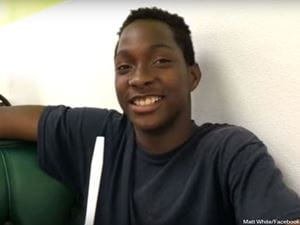 A Good Samaritan is being hailed as a hero for doing the unthinkable to help a family in great need.
Chauncy Black, a teenager from Memphis, TN, approached Matt White, a stranger in a Kroger Supermarket, and asked him if he was willing to buy donuts in exchange for carrying groceries to his car. Black did not anticipate the act of grace that would follow.
White didn't buy him any donuts. Instead, he purchased an entire cart of groceries for the boy and his family. White then offered to drive Black back to his home so that he wouldn't have to ride the bus. That's when White met Black's disabled mother, Barbara Martin, and saw their living conditions.
Black and Martin live in poverty. Their house only has a couch and a couple of lamps. They don't have beds. Because of this, their family had been sleeping on pads made out of sleeping bags. Their refrigerator was empty.
White knew that he had to do something to help this family. He went home and set up a GoFundMe account called "Chauncy's Chance," setting an initial goal to raise $250 to buy a lawnmower for the teenager who wanted to earn money by cutting grass. Since then, the fund has raised over $250,000 in just 13 days, which is way more than anyone involved in it thought they would raise.
But now that they have it, they are planning on putting it to good use.
Martin believes what happened is an act of God. She knows that White was sent into their lives for a reason. Choking back tears, Martin said, "I'm still stunned. I just don't know what to say. It's just so wonderful. I just know God is good and he sent a good person into our lives."
Black just wants for his family to make it out of poverty. This small act is doing a lot to change their situation.
"It means a whole lot to us and our family," Black said. "We are very thankful to all of those who reached out to get us into a better home and a safe environment."
White, who is a man of faith, is amazed by how God has used the power of their story to provide so much for them already and can't wait to see what God continues to have in store for them.
"I pray that he will continue to do so and that we will have all the funds and resources we need to secure Chauncy and his mom for the rest of their lives."
White is now planning to raise enough money to move Black and his mother into a nicer home and looking into buying them new furniture and clothes. A new goal has been set on the GoFundMe page for $275,000, a goal they are very close to meeting.
Many asked White why he felt compelled to help out the teen. White responded: "This kid was really brave. The look on his face was kind of broken. He looked hungry. I just thought to myself, if I was his age, I don't think I could go up to someone and ask them for food. I looked at him like he was my hero… When Chauncy approached me, it just tugged at my heart."
When Black was asked why he approached White in the grocery store that day, he said he was moved by God and he listened to His voice.
"Something told me to go to Kroger," Black said. "God told me to go to Kroger."
This experience has taught Black a lot, including a powerful lesson about faith.
"Faith takes care of a lot of stuff," Black said. "That's what I had: faith."