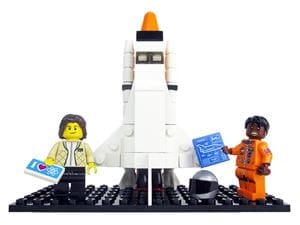 Image courtesy of Maia Weinstock
Over 40 American women have flown in space, and many more have worked at NASA as cosmonauts, analysts, researchers and engineers. However when people think of the space program, it's the name of men that readily come to mind.
One female scientist is going to try and change that with the help of some kids toys.
Maia Weinstock, deputy editor of MIT News and a self-described "Lego tinkerer," has proposed a new Lego set celebrating the women of NASA.
The Lego set would come with five figurines representing five notable NASA women. This includes Margaret Hamilton, Katherine Johnson, Nancy Grace Roman, Mae Jemison and Sally Ride.
Roman was an astronomer and one of the first female executives at NASA. She was one of the masterminds behind the Hubble Space Telescope, and nicknamed the "Mother of the Hubble."
Ride and Jemison were both astronauts. Ride became the first American woman in space in 1983, with Jemison coming in as the first African-American woman in space a decade later.
Hamilton was a computer scientist who developed onboard flight software for the Apollo mission. Johnson was a mathematician who worked on the Mercury and Apollo programs. According to NASA, Johnson's calculations were critical to the success of the Apollo moon landing.
"I think it's so vitally important that all people in this world are involved in the process of discovery," Jemison once said.
In addition to the 5 iconic women, the set will also include a microscale Hubble Space Telescope and display, a mini space shuttle, instruments used to calculate trajectories for the Mercury and Apollo missions, and a photo of the reams of code that landed astronauts on the moon in 1969.
Bringing STEM (Science, technology, engineering and math) to girls through the use of their favorite toys can have a positive impact on their futures.
"Girls will benefit from such a toy set simply by knowing that they can follow their dreams, regardless of their gender and what society may tell them."
"Women have played critical roles throughout the history of the U.S. space program … yet in many cases, their contributions are unknown or under-appreciated — especially as women have historically struggled to gain acceptance in the fields of science, technology, engineering, and mathematics," Weinstock wrote in her Lego Ideas proposal.
The history of women in STEM is rich but largely neglected. Girls will benefit from such a toy set simply by knowing that they can follow their dreams, regardless of their gender and what society may tell them.
Lego encourages people to suggest new Lego sets to the company by sending them into "Lego Ideas." If a project is backed by 10,000 supporters then the proposed set is sent in for an official review.
NASA itself has already shown support for the idea, tweeting out to its 17 million followers asking them to back the project.
As of Wednesday afternoon, only about 4,000 signatures are still needed.
In recent years, Lego has been making strides to add more female characters in scientific fields to its collection. For instance, in 2013 it released its first female lab scientist minifigure.
Based on Lego Ideas proposals, it still seems that there is a strong consumer interest in more female STEM figurines. In addition to the Women in NASA set, there are currently also proposals for an Amelia Earhart set, a Girls in STEM set, and other science-related sets with a star female character.
With each passing day, women are making bigger and greater contributions to society. The importance of allowing our young girls today to understand their opportunities in the STEM fields will only allow this to continue to grow.