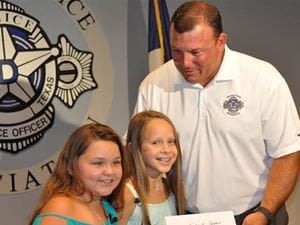 Courtesy of Tracey Roach
After the deadly shootings in Dallas, Texas that left five police officers dead and half a dozen injured, support has been pouring in.
Two young girls, 12-year-old Lauren Roach and 11-year-old Landry Nelon wanted to help their community, so they decided to start a lemonade stand.
They had hoped to raise about $100 and donate their profits to the Assist the Officer Foundation. The foundation provides financial assistance to families of fallen police officers.
But within minutes of opening the lemonade stand, they surpassed their goal.
"We felt really bad for all the victims' families," said Lauren. "At first we thought we would get about $100, but after we got to about $5,000, we realized we could really get this really high."
"We just really feel that every little penny counted," Landry added.
"It felt really good to know I was making a difference and that almost all of Dallas was doing the same"
Before the girls could even fully understand, they realized they had risen over $10,000. They accomplished it all in just two days.
"People were just driving by," said Lauren's mother, Tracey Roach. "They didn't want lemonade, they didn't want anything, just giving them 20s, 50s, you name it, just giving money. And everybody saying, 'Back the blue, back the blue, we support Dallas, we support families, help Dallas become a better place.'"
"Once word spread on social media, we saw all types of people, ranging from college students and yard workers to someone who drove 30 minutes just to drop off money," Lauren's Mom added.
Originally only planning to run their lemonade stand for Friday, the girls quickly realized the potential to reach even more people by holding a second event on Saturday. They enlisted the help of two other friends and even asked their moms to bake cookies and brownies to sell.
They decorated signs that read "Honk if you love DPD" and "All proceeds donated to DPD." With this, they attracted more than 500 people who all had one thing in common: a desire to support their city.
The girls were proud to be able to hand over so much money to a cause they cared so deeply about. The Dallas Police Department Chairman, Frederick Frazier, awarded Laruen and Landry with a certificate for their hard work and dedication to helping others.
"It felt really good to know I was making a difference and that almost all of Dallas was doing the same," Lauren told TODAY.
Even during a time of terrible tragedy, a community is becoming stronger than ever and showing a unified front for the families that were affected.