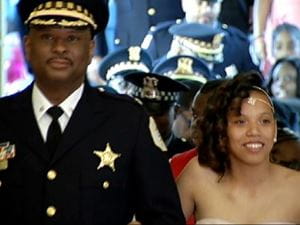 Chicago Police Department
Thanks to members of the Chicago Police Department, girls without fathers were able to have a date for a "Daddy-Daughter Dance."
An annual event is held at the South Shore Cultural Center and is organized to encourage healthy relationships between fathers and their daughters in their neighborhood. Last year, the Chicago Police force wanted to help those girls who didn't have fathers or whose fathers couldn't attend. Police officers stepped in to escort the young ladies to the soirée.
About twice as many girls were able to attend this year as did in 2015.
"After last year's event, we had several officers and the young ladies that they escorted, they kept up with one another and it really bridged a gap," Sgt. Kimberly Woods told WMAQ News. "It let the girls know that officers are just people too and we dance, and we dance funny like your dads do."
The event had a huge impact on the girls who are able to come.
"It's a once-in-a-lifetime thing because some people don't really associate with their fathers," 13-year-old Brejay Payne told the news outlet. "So once you come out, dressed up, and dance, eat, and play with your father, it's kind of a nice day."
This year's theme was "All Shades of Beautiful." Participants enjoyed dancing, refreshments and even goodie bags from officers and other sponsors. One hundred and fifty girls attended the dance. The event was free and open to the public.
The Chicago Police Department teamed up with the National Organization of Black Law Enforcement executives to plan the event. The Chicago Alternative Policing Strategy (CAPS) also helped at the event, saying their mission was to "facilitate a relationship between the city's police force and its community."
"They actually get to see us to find out that that the police are nothing but people. We just happen to have uniforms on," Cmdr. Larry Watson told NBC Chicago.
Recently, a school in Connecticut had their own father-daughter dance. The Parent Club President said it was important to have events like this to grow healthy relationships.
"We believe the daughters getting that bonding experience with their father, or a father figure, is very important as they grow up and become of age to date."
Unfortunately due to many young girls not having fathers, schools and community centers across the nation have had to cancel or shut down father-daughter dance nights. However, knowing there are groups of role models such as the Chicago Police Department that are willing to step in as father-figures for a night, there is hope that these traditions can continue.