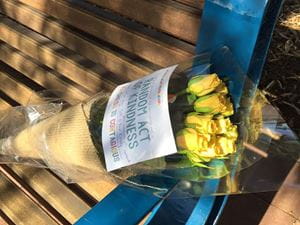 Yours Kindly/Facebook.com
You notice when kind people work to "pay it forward" with random acts of kindness. However Cate Cook wanted to take that a step further. She's working to inspire an entire community to follow in her kind footsteps.
Cate has been the secret orchestrator of hundreds of sweet gestures throughout Adelaide, South Australia since January 2016. Her Facebook page, Yours Kindly, documents all of her anonymous gifts. From leaving bubble wands on park benches, leaving change tap to parking meters, or leaving flower bouquets in public areas Cate is inspiring a town to smile, be kind, and give to others.
Cate greats those who come to her page with a sweet message.
"…Kindness is all around us, but often forgotten…This page is about my journey and the things I see, feel and come across each day. Remember, be kind. Give it freely."
Those who follow her page are considered "Kindness Warriors" who have been inspired by Cook's gestures and imitated the generosity in their own communities.
"We are a kindness community and people are often sharing kind deeds that they have done – leaving chocolates, opening doors, buying care packs for homeless people, writing inspirational notes, paying for someone's coffee, etc.," Cate told the Good News Network. "Recently after a TV interview, the cameraman and sound technician both said that what I am doing is inspiring and such a great thing that they were going to go and do acts of kindness too. It truly is a ripple effect."
The ripple effect has grown and grown, even outside of her city in Australia. All around the world, people are flocking to become "Kindness Warriors." The community is inspiring each other through words of encouragement and suggestions on new acts of kindness. Cate also leaves a note with each act of kindness that she does, so that the person can learn about her mission and join in if they choose to do so.
Even local business are jumping behind Cate and offering donations for her cause. Recently, Cate went to the Cancer Lodge at the Cancer Council, where patients who are undergoing treatments have to stay away from their homes, where she gave flowers to everyone who was staying at the lodge. She was able to do this due to a donation from a local flower shop.
Cate also had the blessing to be able to give craft supplies to the Women's and Children's Hospital of North Adelaide. They were so moved by her offering, they sent her a letter of thanks.
To further show Cate's extreme compassion for others, when she celebrated her 62nd birthday she did so by doing 62 different acts of kindness around the city. The mission took over 7 ½ hours to complete, but she says it was well worth it.
"It was a long, but incredible day. The smiles and genuine appreciation on the faces of people were so uplifting. It truly was a magical day, and I would say the best way to spread happy cheer and enjoy my birthday."