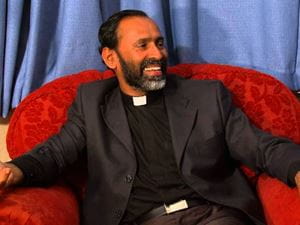 Youtube.com
A priest in India donated his kidney to a patient in need and since then 15 other clergy members have followed his lead.
Father Davis Chiramel donated his kidney to Thekkemadathil Gopinathan, a poor electrician in Kerala, India who found out in 2009 that his kidneys had failed and he needed regular dialysis to survive. This new would bring a great amount of stress on his family, due to having two sons in school and an unemployed wife.
At first, the city flocked around Gopinathan and offered all forms of support including a committee focused on raising funds to buy a kidney transplantation. However, Father Chirmael put his food down and said he would not be a part of any commercial kidney transplant and instead would donate his kidney himself.
To raise awareness of the need for organ donation, Chiramel started an organization called "The Kidney Foundation" in India. Since then, 15 other clergy members who included a bishop and a nun have also donated kidneys to patients in need.
Gopinathan shared the amount of disbelief he had in response to learning a priest was willing to make such a sacrifice for him. He originally rejected the offer to accept the kidney.
"How can I make a priest, who is engaged in many other social service activities, suffer for me? This was my thinking then," Gopinathan said. "But Father Chiramel was determined and my friends persuaded me to accept."
Gopinathan is now leading a normal life and goes to work regularly. "I' m completely happy now," he said.
Through his act, Father Chiramel became the first priest in the world to donate an organ. In addition to donating his kidney, the Father offered to donate his body to Thrissur Medical College Hospital for science after his passing. Another historic move for the Father.
"I believe paradise is realized when you offer whatever is in your possession while alive, and not when you ensure your body is laid in a nicely built tomb,'' he said.
Jacob Murickan, the auxiliary Bishop of Pala diocese, donated his kidney to a 30-year-old youth named Sooraj. A Catholic nun, Sister Chaitanya has also donated her kidney to a 40-year-old man.
The New Minute noted that most of the organ recipients are not Christians.
The Indian community has felt the great impact of Father Chiramel's efforts. In addition to the 15 clergy members, hundreds of others have stepped up and volunteered to become kidney donors. Kerala, is now the only state in India where this many people have volunteered.