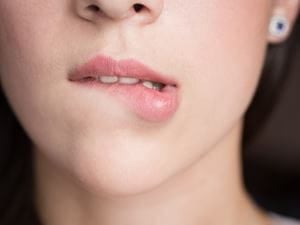 Shutterstock.com
It took a long time for me to come to terms with my stutter.
Growing up, I didn't want to admit that sometimes I repeated a word or phrase or letter before getting it out. I didn't want to tell my friends and family and acquaintances that I stuttered.
Even though millions of people around the world stutter, I felt alone. No one else seemed to talk like me and none of my favorite television shows had characters who sounded like me. Even though an estimated three million Americans stutter, it didn't seem like any of those people were around me.
It took a while for me to learn that there were celebrities who stutter and others who have made a difference by portraying people who do. In 2011, the film The King's Speech won best film at the 83rd Academy Awards and Colin Firth won lead actor. England's Prince Albert, portrayed by Colin Firth, had a speech impediment and eventually took the throne to become King George VI. Musician Ed Sheehan gave an uplifting speech on stuttering and told the audience that "the thing I found most difficult was knowing what to say but not really being able to express it the right way." Actress Emily Blunt had a stutter so bad as a kid, she told NPR , "I struggled with vowels, so 'Emily' was like the depths of hell for me."
Vice President Joe Biden talked about overcoming his stutter and has written letters that have helped other stutterers. Everyone liked James Earl Jones as the voice of Mufasa in The Lion King and as the voice of Darth Vader in the original Star Wars movies. Elvis Presley still has the title "King of Rock and Roll." No one seems to have any complaints against Samuel L. Jackson saying motherfu*ker (and he himself has said that saying that world helped his stuttering).
But even though well-liked celebrities stutter, it didn't stop people from pointing out differences in other people. A person who stutters has learned to cope with insensitive people and cruel words.
Because I stutter doesn't mean I have to fear stuttering anymore. Of course, I do have those moments of panic, the times where my heart clenches and I take a quick breath to balance out the blocked words and the gap in the conversation. By being able to confront those fears and be completely honest with myself and those around me, a weight has been lifted. I feel more connected with myself and who I am by being open about it. It's empowering to realize that you are not alone.
I remember those presentations and speeches and conversations where I had to talk in front of a group of people and wanted nothing more than to be an audience member, or preferably, not in the room at all. I still think about those moments, even though they've long since past. I go back through my past and sort out those moments and come to terms with it. The only way to go is forward, and it's about accepting who you are and finding out ways to improve. Because I've confronted this part of myself doesn't mean that I have to be afraid any longer or feel like I'm alone even though I'm the only one who consistently stutters in my friend group.
It's National Stuttering Awareness Week , a time to raise awareness about stuttering, a time to be more empathetic, and a time to learn how to handle yourself when talking to a person who stutters and not be awkward in conversations.
There isn't a finish line when it comes to stuttering. It's something that I work on each and every day, and it's a battle people you don't even know are also fighting. Even though it may seem like it, you aren't alone, and these battles are being fought elsewhere. You just have to get to know someone in order to see it.