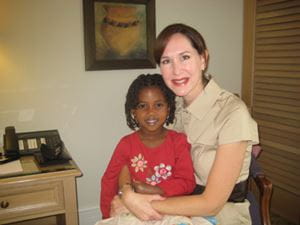 Mother, humanitarian, founder, wife and daughter – those are only a few of the roles that Noodle & Boo founder Christine Burger embodies. "If you have a dream and it doesn't go away, then it's God putting that dream in your heart to pursue it," said Christine. That's how Noodle & Boo became a reality.
"My dad has a saying that it is yes, until it is no," said Christine. She believes that life is an adventure, and if you're willing to walk through the doors that God presents you, then anything is attainable. She explained that fear is the biggest setback, and in order to accomplish your dreams, you must have an element of faith.
Christine met her husband Craig in college, and they became good friends. During their junior year, Craig proposed and the couple was married the following year. After four years of being married, the couple decided to try for a baby. In three months, she was pregnant, but the pregnancy occurred outside the uterus resulting in an ectopic pregnancy. "I was devastated as they wheeled me in for surgery," Christine said. The doctor was able to save one fallopian tube. Unfortunately, there was still pregnancy tissue that had to be removed. Christine underwent three rounds of chemotherapy shots to stop the tissue growth.
While Craig remained her rock, he was also having health issues of his own. He noticed a lump under his jaw line and went to the doctor to get it checked out. Even though the lump reduced in size, the doctor diagnosed him with non-Hodgkin's lymphoma. Since the cancer was in Stage I, the doctors felt he had a strong chance. "Luckily we lived by Stanford Hospital and had some of the finest doctors in the country," Christine said. After three rounds of chemo, 32 rounds of radiation and prayer, Craig was healed.
Christine's faith was tested during Craig's cancer battle. She struggled with the idea that this could happen to such a good man. Christine decided to see a Christian grief counselor. The counselor helped her understand that there are hundreds of situations that hurt people and it comes down to the emotion of being raw. Christine said," Having that feeling of understanding will allow you to have sympathy, for people that you meet, who are going through the same thing." She now realizes that this is the big picture.
A year after Craig's treatments, they tried again to have a baby and suffered through two more miscarriages in two years; however their prayers were answered and Christine was pregnant again this time with their son Andrew. After their son turned one they tried again for another child. They suffered another miscarriage and another ectopic pregnancy. This time there was an extensive amount of internal bleeding, and the doctor had to remove the ruptured fallopian tube which was the good tube. The doctors advised Christine that it would be a miracle if she were able to get pregnant with one fallopian tube that had already endured an ectopic pregnancy, but Christine truly wanted another child. Christine said that she believed that her God "is bigger than cancer and bigger than medical statistics."
So three months after the surgery, Christine decided the situation was in God's hands and that they would have another baby if it was in God's plans. Soon they had their second son, Matthew. Christine and Craig decided that Christine would stay home to raise their children, but she felt like she had a bigger purpose in life and wanted to help children.
Meanwhile her oldest son, Andrew, had eczema and Christine tried every cream in hopes that something would relieve his symptoms. That's when she had her moment of revelation. "What if I start a company that makes children's products and in turn use a large part of the profit to support children in need," Christine thought.
After two years of development with a chemist, Christine launched the line Noodle and Boo. The name came from her son's nicknames. It took some time, but eventually the company took off. Celebrities were even buying the product. Liv Tyler said, "Noodle and Boo products really are my fave for the babies. They smell so delicious and I know they are safe and very gentle." Even though Christine was happy about her success, she felt that she wanted to give more back.
"My church wanted to support a school in Ethiopia by providing a clean water system," Christine said. She went home and discussed the church's mission of the month with Craig. "I became more adamant that I should step out in faith and let God do the rest," Christine said. So Noodle and Boo created the Believe Honey Bar with 100 percent of the profit going to the clean water system for a school in Ethiopia.
Later, Christine went to Ethiopia to help out. She met a little girl, two or three years old, named Dibora. She was sick and Christine paid for her to go to a clinic and get treated by a doctor. She found Dibora a boarding home, but on her flight home she felt like a piece of herself was missing. "I felt like I had left a treasure behind," Christine said.
Once she returned home and told Craig about Dibora, they decided to adopt her. Even though she was shut down by several adoption agencies, she again stood by her dad's inspirational words: "it is yes until it is no." Soon, she was able to adopt Dibora and her family was finally complete!
"I don't feel like my dream has been fulfilled," she said. "I think that when you start to get older, by default you have what appears as accomplishments because you've lived so long." She believes that she has much more to accomplish, and that every day she will try doing her best in each role that she is performing.
Recently, Christine launched a women's line called Glowology. Like Noodle & Boo, Glowology uses healthy ingredients, recycled packaging and donates profits to charity.
Without a doubt, Christine has showed the world that there is something special about her successful companies. She has showed the world that, "It is yes until it is no."

Visit www.noodleandboo.com if you are interested in purchasing products.