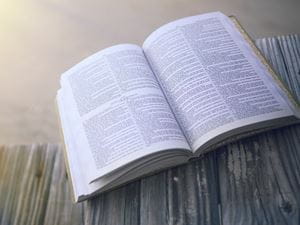 Lightstock.com
Taking a trip inside your Bible is like vacationing from the things of this world. Romans 12:2 reminds us that we shouldn't conform to the pattern of this world. Instead, we should be transformed by the renewal of our minds to prove what's good, acceptable and the perfect will of God. There are different ways to approach Scripture and make it your latest escape, regardless of your time.
You might have days where you have time to focus on a phrase or keyword, a chapter, a verse, or an entire book. Still, regardless of the time you have, here are some ways to make your Bible your latest escape.
Treat each chapter like a day trip.
When reading through the Bible, it's typically easier to dedicate yourself to digging into one chapter daily. In our busy lives, it's something we can commit to, and the chapter you're reading helps get your mind off the stressors of your day ahead. Not everyone can afford day trips, but the things we collect from studying the Bible will pay us back in wisdom far more than a day trip could. A bonus is we don't have to feel the sting of taking funds from our bank accounts to do so. So much beauty, peace, love, joy, and light can be found by reading through a Bible chapter and finding what God has for your heart inside of it.
Treat the books like a vacation.
Some people like to take a week's vacation, while others take longer depending on their schedule. The same is valid for studying a book of the Bible. Some of us might be able to read through, ingest, and digest an entire book of the Bible in a week, while others might need more time. Think of each book of the Bible as a vacation destination. As you strive to read through the entire Bible, you'll go on many spiritual and scriptural journeys that will delight and refresh your soul. You'll also take vacations into your Bible that will cause you to reflect on things in your life that you maybe should change and new ways of thinking that you should cultivate.
The beauty of making your Bible your latest escape is that you'll come out from each escape from the things of this world with an undying perspective. This makes the beauty of escaping into your Bible because a heavenly perspective will take you far in life, especially when you endure hard things on earth. You'll know with certainty that the sufferings of the present time aren't worth comparing with the glory that'll be revealed in us, as detailed in Romans 8:18.
Treat each verse like a spa trip.
There's something powerful about reading one Bible verse and meditating on it all day. It truly cleans our minds, like going to the spa and cleansing the body. An internal cleanse is essential, and we should and can take a journey to this scriptural spa daily, allowing ourselves to bask in the free living water and sitting at our fingertips. John 4:14 tells us that whoever drinks from the water Jesus gives us will never thirst. The water God gives us will become a fountain of water, bringing us eternal life.
Let's use this verse as an example of a trip to the biblical spa. The beginning says whoever, meaning anyone can access this water that Jesus provides and access to everlasting life. Jesus wasn't exclusive in His teaching but was highly inclusive. The words "springing up" give an image of joy. On challenging days, when we're tired and it's a struggle to get out of bed, we can spring into action and start our day, knowing that trouble doesn't always last. Knowing that whatever weighs us down on earth won't exist in heaven.
Treat a phrase or keyword like a mini-retreat.
Everyone has had days where we don't get the time alone that we'd like to study our Bibles and bask in the light of God's Word. For example, you may have a situation where your child is hospitalized and critically ill and a phrase or keyword would get you through the day. You can continuously recite them to yourself to keep your mind from wandering to other tragic places. You might be in a season where everything is chaotic and dark.
You may be in a season where you barely have time to drink, eat, sleep or brush your teeth. There will be a time in our earthly lives when we'll cling to only one of God's words like a life raft keeping us from drowning. These are only some of the life-giving words and phrases from the Bible that will get you through some dark days and give you a quick mini reset whenever quiet time is sparse. Isaiah 4:31 reminds us that we belong to God. You can recite this repeatedly on challenging days to remind yourself that we're His and nothing can separate us from His love. No amount of darkness can put out the light of His love inside our hearts.
Another phrase to cling to is Philippians 4:13, which reminds us that we can do anything through Christ who strengthens us. We may not be able to do it, but He can. We can't pull through life on our own, but God can. His strength can see us to the other side. You can repeat this and remind yourself that God will be with you through everything. There are likely many more phrases and keywords than these, but the beautiful thing about God is that He's a personal God. So when we read the Bible as His love letter to us, we see things differently.
Whether you choose to use these examples of taking a spa trip by meditating on a verse in the Bible, a mini reset through biblical phrases and keywords, or a day trip by reading a Bible chapter, prayerfully, these examples have given some inspiration for your heart that's likely worn and world-weary at times. If you haven't picked up your Bible in a while, let's hope you'll see its resetting, cleansing, and faith-fueling benefits and choose to make your Bible your next escape.