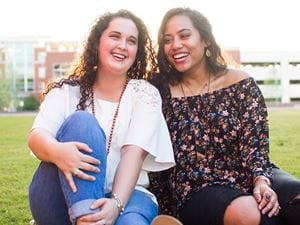 Twenty20.com
Confidence takes time to cultivate; it is not an overnight achieved heart, mind, and soul status. Yet confidence can radically alter how you operate in life and how you respond to what comes forward in your path. True confidence in your womanhood is a gift to God, others, and yourself. Here's how to be confident in your womanhood, with God's help.
Security in Self
A lie of the enemy often arises that if a woman is confident in her skin and has security within herself, she has let arrogance overtake her. That is more often than not far from the truth. There is a severe difference between a woman holding within herself confidence, boldness, and a heart stature of the truth of who she is and a puffed-up arrogance of pride. Consider the words of Proverbs 31:25, "She is clothed with strength and dignity; she can laugh at the days to come. She speaks with wisdom, and faithful instruction is on her tongue."
This woman has made the choice of what she is putting on herself. Instead of putting on insecurity and fear, she adorns herself with the strength and armor of the Lord. Instead of relying on what she thinks others want her to say, she speaks with wisdom and instruction on her tongue. This wisdom is not born of the world's ways. Instead, it is born of that which she has indwelled in and seen through the eyes and leading of the Lord. She has lived a life following the Lord and gained the wisdom of what it means to have lived a life surrendered to Him.
There is also security that comes from the beauty within outwardly. Looks are often sensitive and delicate when it comes to women. We often feel the pressure to be skinnier, prettier, and measure up to scales that shift and change on a whim. Yet true beauty is standing as we are, honoring what we have been given to our best ability, and not being ashamed. I often think of Ella in the live-action version of Cinderella in this instance. She had been the epitome of beauty when the Prince saw her at the ball. Her waist was perfectly cinched, her hair like golden ribbons of gold, and every part of her outer beauty was enchanting.
Still, when the Prince arrived at her doorstep looking for her with that glass slipper, she was wearing an old and raggedy dress, her hair was dirty and messy, and her face worn and tired. Yet despite all of that, there was a glow that emerged from her of her outer beauty. The narrator offers, "Perhaps the greatest risk any of us will ever take is to be seen as we are." Although her looks at that moment were tattered, she walked with the confidence of her inner beauty because she was in every way beautiful and worthy. Inner confidence is deciding that no matter how we look on the outside, we choose to be secure in knowing we are honorable and lovely.
Response With Others
Inner confidence can also affect how we respond to those around us in situations. A woman who is insecure and lacking in confidence will often look for approval from those around her. She relies on their support to define her identity, worth, and acceptance. Not only that, but when occasions arise in which she could set a boundary, she often will feel trampled upon or used because she declines on standing up for herself. Yet a woman who is rooted in confidence can take a different approach.
Her value is not dependent upon the opinions of others; instead, it is dependent upon the view of God. She can set boundaries according to how the Spirit of God leads her to do so, and she does not need to take on the pushback that potentially could emerge through the disappointment of others. She can also serve as a better friend because of these boundaries. Those around her will not be expected to be her constant affirmation source, so instead, they can enjoy a healthy, composed, and an energetic lady in their midst. Confidence in who you are as a woman has more effect than just you.
Confidence in God
Most importantly, the assurance a confident woman has comes from the correct rooting and source in God, and it plays a role in her relationship with God. Because she is not finding her foundation in her abilities, flesh, or understanding, she can live in the freedom of surrender to God Himself. That which she builds her house on is the grounds of the Lord and not on shifting sand. Consider the words of 2 Corinthians 12:9-11, "And He has said to me, "My grace is sufficient for you, for power is perfected in weakness." Most gladly, therefore, I will rather boast about my weaknesses so that the power of Christ may dwell in me. Therefore, I am well content with weaknesses, insults, distresses, persecutions, and difficulties, for Christ's sake; for when I am weak, then I am strong."
Because of this establishment, she can take more profound confidence in God that He is indeed Who He says He is. When life brings challenges, or when He calls her to stand in faith, she is not relying on herself; she is not relying on those around her. She is indwelling and relying on God Himself for the result. Inner confidence in who you are as a woman can increase because of the faith that is given in God Himself.
This also allows her to live boldly, walking out in the calling upon her life. God has Authored a specific story, a profound purpose, and an intention that you and you alone can fulfill, and when you step into the conviction of who you are, what awaits is the abundance of what it means to be you.
Standing in the certainty of who you are and knowing who that woman can be ever-growing, ever-increasing, and ever depending on is a sacred gift. It is a gift given to you, and it can be shared with those around you. It is one that you leave a mark on other's lives, not a stain, because of the firm ground that you assert yourself in. Let that be Christ Himself, and let Him define your strengths, weaknesses, hopes, and aspirations. Let Him offer and establish all He has written for your life to come to pass, and then take that on and walk out what it means to be that woman in bold confidence. For she is one of a kind and someone the world needs.