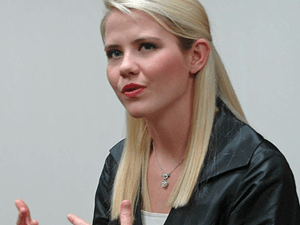 KOMUnews/Flickr
Elizabeth Smart was only 14 in 2002 when she was kidnapped; taken in the middle of the night by a man who sliced through the window screen of the bedroom she shared with her little sister in her family's Salt Lake City home.
The man pressed the knife against her throat. If she screamed, he told her, he would kill her family. She didn't scream. The man, Brian Mitchell, dragged Smart out of her house and up into the mountains outside the city, to an encampment he shared with his wife, Wanda Barzee. There, he raped Smart and tied her up with a metal cable, the beginning of what would be nine months of unimaginable abuse and harrowing living conditions before she was rescued.
Smart's story captured the hearts of millions. After going through such a terrible and unimaginable experience, people everywhere wanted to show their love and support. Now, over 15 years later, Smart is showing everyone how no matter what we go through in life, we are able to find healing and peace. Here are some of the ways Smart was able to overcome her past and become an author, mother, and advocate.
She took control of her story.
Smart hadn't planned to speak publicly about what happened to her. When she first came home, she didn't want to talk about it at all. Smart was a shy, Mormon girl and found herself embarrassed about what happened.
"Over the next few years, I tried to blend in, but that just never happened," Smart said. Quick trips to the grocery store were a thing of the past, because others would stop her to ask her story.
When her captors went to trial, Smart felt uneasy when court proceedings didn't share all the details. "That's not everything that happened — that's not my whole story," Smart said she had thought.
"...you have an opportunity to do something about it. You have an opportunity to make a difference."
She said she told herself, "Look, Elizabeth, you can't change the past. What's happened has happened. So you can continue to try to fight it or you can just accept that it happened, accept that you will never go back to being that wallflower you were before you were kidnapped, and you have an opportunity to do something about it. You have an opportunity to make a difference.
Instead of leaving it to the courts to tell, Smart worked with her father to have her side released. Her dad, Ed Smart, had written a book, "Bringing Elizabeth Home: A Journey of Faith and Hope." She wrote her own, "My Story," in 2013, followed by a documentary and a TV movie narrated by her in 2017. Smart understood how hard it was to speak up, and wanted to make sure that no other survivor felt that they were alone.
She didn't define herself.
Smart got married five and a half years ago. She lives in lives in Park City, Utah, with her husband, Matthew Gilmour, and her two children, Chloe, 2, and 8-month-old James. Smart doesn't see herself as a victim of a terrible crime. Smart is a survivor that doesn't let her experience define her.
"To some people, I recognize I probably always will be that girl that was kidnapped," Smart said in an interview. When she looks in the mirror, she sees something else.
"When I look in the mirror, I also see a mother and a wife, and someone I am proud to be," she said. "I see an advocate. I see a survivor."
Smart's decision to see herself as a wonderful mother and wife is one of the reasons she's been able to move forward. Despite the traumatic memories, Smart says that she'll tell her children about her ordeal when they get older. "I'm certainly not going to hide it from them," she says. "Already, I struggle with not wanting to be so overprotective, but protect them enough. Finding that balance, that's hard."
"I talk to my daughter all the time and say, 'nobody has the right to hurt you, or scare you, or make you feel afraid," she says. "And if anyone ever should, you need to tell me."
She helped other survivors.
One way Smart has grown is through becoming an advocate for child safety. One way she helped others is through her Lifetime special, "Smart Justice: The Jayme Closs Case." Smart was nervous about the opportunity at first, and wanted to ensure that everyone involved felt comfortable and not exploited. In the episode, Smart sits down with six other survivors and each talk about their experience.
"I feel personally empowered by it," she says. "For the first time ever, I sat on the sofa with six other kidnapping survivors and we talked about the struggles that we've had in our own lives after we were rescued...I feel like if any survivor were to watch this, they could walk away feeling empowered, feeling uplifted, like they're not alone."
Smart emphasizes that she wants this special to help guide people on making the jump from victim to survivor. "Once a case has resolution as far as finding the survivor, you take for granted, 'They've been found, everything is good now,' " she says. "But so many people who have been through traumatic events...can't make that jump to survivor. For a victim, even if the trauma may have ended, it's still actively traumatizing them. A survivor — yes you have bad days, but you've made that decision to reclaim your life and no matter what the struggle is, you keep moving forward."
Smart listens to others stories, and helps guide them to finding peace. "All the meetings I have with survivors I keep confidential," she says. "I'm always happy to talk, to listen. I'm a phone call away. They have my number."
She started a charity.
Smart helped survivors in another way as well, through charity. The Elizabeth Smart Foundation focuses on recovery, advocacy, and prevention resources for victims and their families. Smart decided to take the spotlight that was on her and use it for something good.
According to the Elizabeth Smart Foundation website, "The idea was to use the Smart family's experience—especially their frustration at limited resources to turn to in the wake of their crisis—and create something for other families suffering. Beyond that, to create something that would help shed a light on the brave work done in fighting crimes against children. To provide a place of hope, action, education, safety and prevention for children and their families wherever they may be, who may find themselves in similar situations as the Smarts, or who want to help others to avoid, recover, and ultimately thrive after they've been traumatized, violated, or hurt in any way."
Smart could have easily given up on life after the terrible situation she went through. Instead, she pushed through and found ways to channel her pain into something inspiring and positive. Over 15 years later, Smart is not just known for being the girl who was kidnapped. She is a strong, successful woman that is a beacon of hope for survivors everywhere.