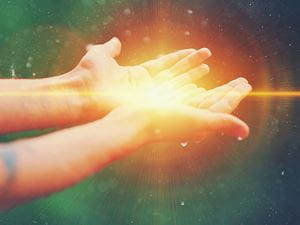 Shutterstock.com
The biblical definition of a miracle is an extraordinary event in the physical world that surpasses all known understanding that is considered God's work. When Christians think about miracles, they talk about a supernatural occurrence that defies nature's laws. The Bible mentions 35 miracles that Jess performed. These include stories about Jesus healing the sick, casting out demons, bring people from the dead back to life, among other events. Then, there are miraculous occurrences where we see Jesus' power over things, like when He turned water into wine, he fed thousands with a small amount of food and walked on water. Miracles didn't just occur in biblical times. They are still occurring now. If you're a believer wondering how to pray for a miracle, here are five good places to start.
Begin by asking for healing.
When we want the miraculous to occur in our lives, we must pray for healing to happen. There are tons of examples of Jesus' healing in Scripture, so we know that that same power can transfer in our own lives. We just must call on Jesus to place healing in our lives. If you want to start asking God for healing, here is a great place to start: Dear Lord, I call on You for healing today. Heal me in whatever way You see that I need healing. I call on You to heal me from whatever is separating me from You. I ask that You heal my memory, my emotions, and my heart. I also desire that You heal my body and my soul. Wrap Your mighty arms around me and heal me through Your mighty love, Lord. Amen.
Ask for miracle power.
Miracle power is real. It testifies that God's touch is close to us and that He is always working to transform our lives. We must be conscious that God is doing the miraculous in the world each day. Miracle power occurs when you have faith and trust in God's incredible power. You just have to call on God and receive it. This prayer can guide you.: Dear God, I call on Your miracle power today. Please allow this miracle power to penetrate and transform my life from the inside out. I know that Your miracles have the power to transform not only my life but the lives of those around me. For that, I am forever thankful, Father. Amen.
Have faith.
To understand the miraculous, we have to also understand that we are miraculous beings. There is no way we would e on this earth if we weren't miraculous beings who were part of God's greater plan. We have to believe in the power, that all things are possible. Have faith that miracles do exist, and Jesus is a living example of this. Pray daily for the faith to always believe: Dear Lord, please grant me the ability to see Your power working in my life daily. Help me to see all the supernatural miracles. You're working in my life, even when I can't see them taking place. I know that miracles are an example of Your excellence being glorified. Thank You for blessing me with this miracle of life. Amen.
Know that there are things only God can do.
As believers, we should make it a habit to pray for the big things that only God can do in our lives. One of the ways we can do this is by seeing the bigger vision for our lives. For example, you can pray for more than just getting through your workday. You can pray to see the bigger vision of your vocation and the ability to fulfill the call. God may answer this prayer by shifting you to a new career. Sometimes, we're not ready to receive this change, but this can be transformative. Call on God to make the powerful happen in the bright situations He sets before You. Here is a good prayer to begin with: Dear Lord, I am calling on You to do what only You can do. I am asking You for a miracle in my life. I know You are the true source of it. When I am confused, guide me through my situation. When I am lost, please send me a sign. Touch me in a way I haven't been before. If You are willing, please help me receive my miracle today! Amen.
Know that God is greater than any spiritual battle you face.
God is bigger than any spiritual battle we face. We can never lose a battle when we have God's strength running through us. Too often, we rely on our own strength, which is limited. We have to have God working with us to unleash our miracle. If you want God to conquer the enemy, here is a great prayer to begin with: Dear Lord, I come to You today asking You to conquer any spiritual attacks and demonic influences that are taking place in my life and the lives of those around me. I believe You have the miraculous strength and power to overcome satan and his temporary forces. Today, I claim victory over the enemy in Your holy name. Amen.
If you are ready for miracles to begin taking place in your life, call on God, and stay persistent about whatever situation you face. You can see and do the miraculous when you believe God is working in your life. The more you trust in God's power, the more you will see the miracles working through your life.