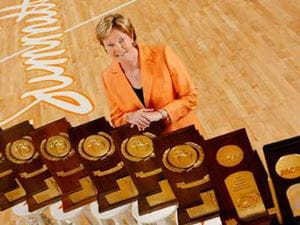 University of Tennessee women's basketball coach Pat Summitt announced that she will step aside as coach on Wednesday.
Summitt, 59, can still mentor and discipline players by taking the title of "coach emeritus" but will not be permitted to sit on the bench with her team according to NCAA rules.
Alzheimer's isn't typically expected in someone young. "About 200,000 people are living with younger-onset disease, compared to about 5.2 million 65 and up," according to the Alzheimer's Association.
The all-time winningest coach won 1,098 games, collected 10 titles and eight NCAA national championships after 38 seasons.
Summitt addressed challenged adults in Cleveland during a benefit about keeping a positive attitude when faced wth challenges as she has done on court with her UT team. "When you get up in the morning you should say 'Good morning, Lord,' not 'Good Lord, morning!' You need to decide how you want to start your engine."
Assistant Holly Warlick, 53, will take over the coaching the position.