Toddler Found Floating in Air Pocket Underneath Boat Survives 
A 23-month-old girl survived a boat crash by floating in a pocket of air underneath an overturned boat. The Bossard family was thrown into the water after their boat crashed and overturned in a river near a bridge in Cocoa Beach, Florida. Four officers jumped into the water and quickly rescued two adults and an infant, but the toddler was still missing. The search went on for nearly an hour. They could hear the child crying but they couldn't tell where the crying was coming from. Finally, two officers found the girl trapped underneath the overturned boat staying afloat in a small pocket of air. Thankfully, the child was wearing a life jacket and was in good condition. Our God is truly awesome.
Eyes of Jesus Statue Open in Church 
A video went viral this year that appeared to show a statue of Jesus opening its eyes as it was being filmed. The video has been viewed by more than 2 million people on YouTube since being uploaded. According to the Daily Mail, the Jesus statue is located in the Chapel of Saltillo in Coahuila de Zaragoza in Mexico and the video was taken during a church service. The video generated major controversy around the world. While some believed it was an optical illusion or retouched, many believers say it was a miracle. This also isn't the first time a statue of Christ purportedly opened its eyes. The video titled "Jesus opening and closing His eyes at Holy Love apparition site" received more than 500,000 views on YouTube, with claims that the end of the video showed Jesus' eyes appearing to open and close. This action caused the video creators to seek prayer.
Infant Ejected from Car Crash is Found Alive in Storm Drain
This story of survival amazed even seasoned firefighters. An infant who was ejected during a car crash was found in a storm drain, 25-feet away from the crash alive, with only a scratch on her forehead. The family vehicle flipped over and the 8-month old girl was ejected. After the crash, survivors looked for her but could not find her. Rescuers arrived and canvassed the area, finally zeroing in on a patch of hay in the median after hearing a sound. To their amazement, searchers found the infant inside a storm drain more than two dozen feet from the roadway. The baby was sitting up and looking up at the firefighters, waiting to be pulled out. "There had to be some kind of divine intervention for her to end up being OK," firefighter Josh Moore said. This was truly a miracle from God!
Angel Caught On Camera During Facebook Live Broadcast
Cory Hearson of South Carolina took to Facebook Live when he thought he saw something interesting in the sky. In the live video, he said he knew that no one would believe it was real if he didn't take the video live. Hearson then pointed his camera towards an unusual shaped cloud. From far away, the cloud looks like a T-shape, but once Hearon zooms in his camera, the cloud looks like a figure with a head, body and feathered wings. "Is that not an angel or what?" Hearon asks in the video. "This is blowing my mind." A lot of people were just as amazed as Hearon. In just a week, the video gained more than 237,000 reactions and 215,000 shares. His live video has also been over 9 million times.
Abby Furco's Miracle from God 
10-year-old Abby Furco of Virginia Beach, Va. was diagnosed with cancer. Her condition was so dire that she was given only 48 hours to live. She was first diagnosed with leukemia when she was four years old and had beat the disease, but it came back when she was seven. She was declared cancer-free for a second time, but her life was threatened again by graft-versus-host disease following a bone-marrow transplant, prompting doctors to give her 48 hours to live, a timeline she has outlived by many months. Against all odds, Abby not only survived, but was strong enough to serve as the flower girl at the wedding of Sarah Rostock, another cancer survivor. All things are possible with God.
Miracle on 93rd Street
An 81-year-old man is alive today because an "angel" firefighter scaled down a wall of flames to rescue him from a raging inferno on New York's Upper East Side. James Duffy was on the top floor of a five-story apartment building on 93rd Street when a six-alarm fire quickly burned out of control earlier that morning. The fire sent flames shooting 20 feet in the air and had residents fleeing into the street. Duffy, who suffers from asthma, said he thought he was going to die in his fifth floor apartment – but Rescue 1 firefighter Jim Lee jumped into action. Although blinded by the heavy smoke and flames, he was able to grab the man and they were both then lowered to the ground for safety. After they got to the ground, the rope broke. It had been burned through by the flames shooting out the windows. "It's a miracle and he's an angel," Duffy said. "A miracle on 93rd Street."
Baby is Born for a Second Time 
Margaret Boemer of Plano, Texas was 16 weeks pregnant when doctors discovered an abnormal tumor on her baby during a routine ultrasound. As the tumor grew on the baby, it began to compete with the heart and redirected circulation to the tumor instead of through the body for normal development. During that time, little Lynlee's heart was pumping overtime and doctors were worried that she wouldn't survive a full term. Boemer's pregnancy was complicated from the very beginning, as she had been originally carrying twins, until one died before her second trimester. Boemer was determined to make sure her baby survived, reaching out to different hospitals until Texas Children's agreed to give her case a try. They decided to continue with fetal surgery. While the surgery had been done before, it had only been successful twice previously. At 23 weeks and 5 days pregnant they removed the fetus' tumor by taking the baby out of the womb through an incision in her mother's uterus as both the mother and the fetus were under anesthesia. After the tumor was removed, surgeons carefully placed little Lynlee back in her mother's womb, where she grew until birth. Miraculously, there were no complications and she recovered perfectly. Eight days after birth, Lynlee underwent another surgery to remove the remainder of the tumor and is doing great. Her mom said, "God gave us this gift, and we're thankful we could give her life."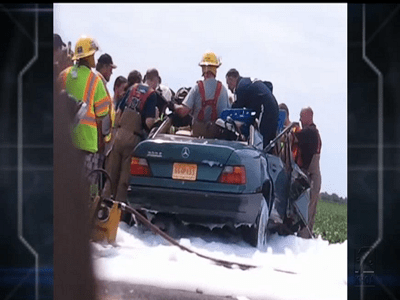 God Sent a Mysterious Angel to Pray with Car Crash Victim
A priest appears seemingly out of nowhere to help calm the victim of a devastating crash.
Read next feature >