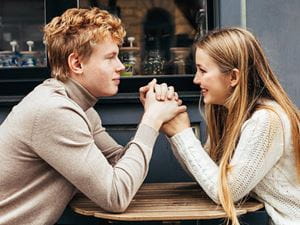 Twenty20.com
For better or worse, richer or poorer. Well, hopefully not the latter. With many couples eager to get married, experts share their solutions to avoid issues related to one of the biggest reasons for divorce: money. The National Library of Medicine collected data for 21 years and found that 37 percent of all United States divorces happened due to financial issues. Having too many conflicts or arguments, getting married too young, and lack of commitment were among the other reasons for divorce. So how can newlyweds stop themselves from becoming a statistic?
Communication is key.
One Fidelity adviser says communication is one way to prevent divorce. Fidelity Life Events Experience Lead Meredith Stoddard says communication is essential when merging finances as a couple. It may be a sensitive or challenging topic to discuss. Still, it's vital to have an open line of communication regarding money, including debts or loans, income, expenses, and future financial goals. Every relationship is different, and each couple approaches finances differently.
Whether you keep your assets separate, combine them, or do a hybrid, it's vital to be aligned on your short and long-term financial goals to determine which approach works the best for you. Stoddard also stressed that keeping secrets, especially of the financial variety, can damage your marriage in more ways than one. She says keeping financial secrets might seem like the best idea to avoid difficult conversations, but this may have long-term effects on your relationship and finances.
Know that alignment may take multiple conversations.
Many see money habits, including not having enough autonomy or managing debt, as one of the most common problems couples will face in their marriage, others see lack of communication as the number one issue. Another Fidelity expert believes the two are linked and advised that strengthening the latter can help navigate the former. Data from Fidelity on money and couples indicates that 84 percent of those surveyed who say they communicate well agree that money isn't their most significant relationship challenge, compared to 59 percent of couples who don't connect well.
It's rare for two people to constantly be on the same page about everything. The most essential thing you can do is find something enabling you to meet your needs individually and as a couple. It would also be best to recognize that it might take numerous conversations for you and your partner to get on the same page with your goals as your situation evolves.
Consider having separate and joint accounts.
While talking with five spouses, every couple said they maintain joint and separate accounts, the latter of which their better halves don't have access. Couples also decided to skip splitting bills down the middle due to income disparity and instead chose a more proportionate division between spouses.
Discuss finances before walking down the aisle.
When asked about advice to share with newlyweds, one collective thought echoed Stoddard's advice: open communication is critical. The couples emphasized discussing your views and expectations regarding finances before moving in or getting married. You don't have to follow one model and can make a system that works best for you and your family. As for the wedding day, most couples advised not to put too much money into where your marriage is.
One couple advised not to overdo the details because no guest cares or looks for details on the big day. They insisted it's not worth the extra cost for the gorgeous invitations or the more prominent centerpiece. Other couples said creating a joint account for any check you receive as a wedding gift would be wise, highlighting that weddings should be about the life you're making, not a singular day of celebration.
Ultimately, you're marrying to start a new chapter with the person you love. Wedding planning can be stressful, but putting all your money into one day may cause stress for the rest of your life, which may cause resentment towards your partner. It's not the way you want to start your happily ever after.
Don't get caught up in the honeymoon phase.
After marriage, Fidelity Life Events experts remind couples not to get lost in the honeymoon phases or forget tasks like updating or creating a will, reviewing insurance plans, or setting beneficiary designations. Communication is essential, so create an honest and open dialogue regarding money early on to set yourself up for success in the future. Consider setting aside time monthly for a financial check-in to ensure you stay on track with your shared goals.
Getting married is supposed to be one of the happiest times of your life. However, you can't leave out essential conversations, especially about finances. Before you walk down the aisle with your beloved, it may be best to sit down and discuss where you are financially and what you expect financially after you get married. That way, you and your spouse will know what to expect, and it'll lessen your chances of heading toward divorce.