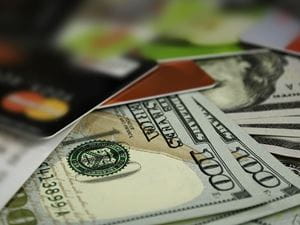 Shutterstock.com
Financial issues and hardships can cause a great deal of stress in your life. They can devastate individuals' lives and marriages and cause you to spiral down a tunnel of anxiety, worry, and depression. If you are dealing with financial hardship right now, you are not alone. You may not realize it, but the Bible is an excellent resource for instruction on dealing with money. Scripture also shows us how we can receive financial blessings, and achieve financial success. If you want to pray for a financial breakthrough, remember these six things.
Know that God cares for you.
When you're struggling with financial hardship and debt, it's easy to lose sight of the fact that God cares for you. Yet, we must remember just how much God does care for us. Our financial struggle can be an excellent opportunity to improve our trust in God and remember how much He is looking for us. God cares about our needs, even more than we care about our own. The difference is, God can distinguish between what we need and what we believe we need.
Another important thing we should remember is that everything is a blessing from God. Instead of stressing over our money, we can turn to God as our ultimate provider. If you are looking to reduce your stress about your finances, turn to this prayer: God, I come to You in need of a healing miracle with my finances. Although I may see no way out of this situation, Your Word says You will provide for every need. Even when I'm anxious about my bills, help me trust You and wait on Your blessing! In Jesus' name, Amen!
Turn your debt over to Jesus.
You must remember that your financial problems won't change until you can change certain lifestyle habits and behaviors. To receive a financial breakthrough, you can't continue doing what you were doing before. If you do, you'll probably continue seeing the same results. This is why it's so important to turn your money problems over to Jesus. If you are ready to trust the Lord with your financial breakthrough, say this prayer: Dear Lord, I surrender my finances to You. Lord, please help me through this period of economic hardship and worry. Guide me through any situations that will hinder my ability to be gainfully employed. Amen.
Believe in God's financial blessings.
If you're ready for a financial breakthrough in your life and want to see that miraculous power working in your life, you have to believe in God's ability to help you achieve financial blessing. If you truly trust God and the ultimate plan He has laid out for you, say this prayer: Dear Lord, thank You for all the blessings you have bestowed on me and will continue to help me receive. I choose life today. I choose to be an outlet for what You want me to do. Thank You for the blessings You provide, including financial ones, that are in store for me. In Jesus' name, Amen.
Remove debt from your space.
If you want to get rid of the debt that is in your mind and heart, you have to pray and trust in Jesus. You can talk to Him directly and acknowledge what needs to change in your life. It is time for you to decide that debt is no longer an option and begin to manifest it. When you're ready to remove this stress from your space, begin with this prayer: Dear God, thank You for providing for my every need, according to Your glory. Even in these troubled times, you never fail me when my finances are troubled, and worry is invading my space. Help me find peace, Lord, and be confident in Your blessed assurance that You will help me achieve a financial breakthrough and provide for my every need. Amen.
Remove the financial worry from your spirit.
If you're struggling with debt, you are probably struggling with anxiety as well. These feelings and emotions can leave you broken and begin to separate you from God. If you want to remove your spirit of worry, you must pray for God to remove it from your spirit. If you feel like you are drowning in a sea of debt, it is time to unleash God's financial healing in your life. Accept this healing in your life with this prayer: Dear God, I feel as though I'm drowning in debt, and the anxiety is knocking me down over and over again. I'm beginning to dread picking up the phone and checking my mailbox because of the bills that have piled up. I pray that I can remove this debt from my space and be able to bless others financially. I pray that You will remove the spirit of worry from my heart and give me a spirit of courage. Help me to recognize that all things are possible through You. Amen.
Know that God may be giving you a different answer than you're looking for.
There will be times when God doesn't answer things the way we want him to. Sometimes the answer is yes, but there are times when it is simply "no." The Bible tells us, "Many are the plans in the minds of man, but it is the purpose of the LORD that will stand" (Proverbs 19:21).
Sometimes we're not listening to God's station. We're not tuned into His will for us.
We may be able to come up with thousands of ways to make more money, but sometimes these options don't turn out how we hoped they would or planned for them. Financial breakthrough occurs when we trust in God's provision. When the answer is no, it may be because God has something better in store for you. Find out what that is with this prayer:
Dear God, I know that You hear that prayers that I say, You answer more than I ask for, and give me more than I can imagine in Your own time and Your way. Help me to receive whatever your plan may be for me for financial blessing and breakthrough. If the answer is no, help me to trust in Your process and believe that this answer is for my good. I will trust whatever plan You have in store for me. Amen.
We all have financial fears. If we didn't, we wouldn't be human. No matter what financial situation you're facing today, pray, allow God's plan to prevail, and know that it is for your good. If we have a Kingdom mindset and seek God's will first, everything will be provided for us.