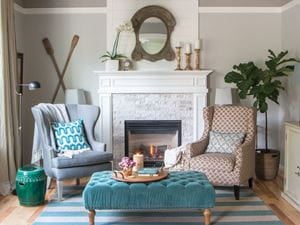 Photo courtesy of "The Inspired Room"
There is a huge difference between a house and a home. A house is just a property which can be used to live in. On the other hand home is made with love, care and a feeling of belongingness. A house is transformed into a home after a careful decoration and remodeling process. There are various elements of home décor that can infuse uniqueness to your abode. When you are planning to renovate your house, it is important to know which article will increase its value and which one doesn't quite fit in.
Taking on a large-scale remodeling project can enhance your home's value and can make it more appealing to buyers. But it can also break your bank account if you are not careful. The real cost and payback for each project depend on your home's condition or overall real estate market values in your region.
Looking for ways to spruce up your home without putting yourself in the dirty house, Here some good strategies to consider:
1. Planning About Remodel of House
Major or minor planning is essential when you start any home remodeling project. Determining your ultimate goal is the first step. It may be- planning on transforming your living room into a relaxing modern retreat or converting a basement into a man cave replete with a bar.
Planning has many parts to take a right decision:
Decide what you want
Determine your budget
Get guesses from contractors or companies
Remodeling your contracts when you are ready to choose a contractor
Have a better idea about budget, materials and design to make necessary decision. Here are some questions you should consider before taking any decision:
How much time will your project take to complete?
How much electrical wiring will be necessary?
What materials will you need?
What tools will you need?
How will plumbing be affected during remodeling your house?
What are the values of comparable homes in the area?
2. Upgrading the Kitchen
An upgraded or interesting kitchen can make your home alluring. But all depend on you, how much you consume on remodeling. You can choose stainless steel instruments that attract to the masses. You can also spend on functional appearances like pantry drawers, waste-recycling cabinetry, and soft close cabinet drawers. To increase your home's value, you can also follow below points:
Change out hardware
Repaint your cabinets
Paint hardwood floors
Replace or add backsplash
Add new kitchen sink
Install butcher-block
Replace the lights
Open up space
Talk to real estate professionals
3. Cleaning the Bathroom
The bathroom is also the place where almost every guest visits. To consider what we put them through each day sinks, showers, tubs and toilets need a good cleaning attention in your house. But modern plumbing fixture makes this job easy. To clean your bathrooms efficiently, use the following points:
Remove all of your products from their usual spot
Mop the floor
Keep a hand-held vacuum for daily pickup of hair and other debris on the floor
Squeegee shower walls after use to keep water marks at bay
Keep smaller items in baskets to avoid clutter creep
Clean the toilet
Clean the vanity area
Finish the shower and bathtub
Apply cleaner to bathtub and shower
Dust and sweep
4. Painting the House
Painting the entire interior of your house can convert it and raise the value of your house. Superbly applied paint conveys your pride and helps define your personality. When you are planning on painting your house, write down your thoughts and keep in mind. Light colors work anywhere in your house but dark colors require rooms. To enhance painting of your house, use the following below points:
Plan your painting budget
Plan painting schedule
Plan your workforces like cutters, trimmers, coordinator, rollers and caulkers
Prep the house before you attempt to paint
Open the windows because ventilation helps things dry faster
Use white prime coat before painting
Start with most difficult room first
Ensure all materials are cleaned properly
Choose quality paint
5. Changing the Windows
To consider replacing your windows is a good thing to introduce new and get rid of old. Windows also have attractive look for a house and are energy efficient for your house. You should contemplate new windows with low-emissivity window glass coating which are helpful to reflect sun rays. If your windows do not provide as security as you required, you should go for replacing your old windows. New windows provide a new look to your house and add a dramatic touch to the home improvement project. To add more touch to your project, follow below points:
Replace cracked & broken windows for more safety
To add more beauty and value to your house
Choose new windows with low-emissivity window glass coating to reflect sun's rays
Choose vinyl windows because they have a variety of styles and colors
Choose most popular window on the market like double hung windows to give a modern look to your house
Switch your replacement windows to casement style or awning windows to have the largest amount of glass surface
To produce outward from home, and both add character & more natural light, you can choose bay or bow style windows
Home improvement is not a process. It is more of a strategy which requires planning, execution, testing and review. Consult professionals before taking any major steps. Each element is a reflection of your personality. It is important to discuss the same with all the members of your family.
Colors play a major role in building emotions. Consider color psychology to infuse the correct feelings to your home. Focus on the above-mentioned tips to remodel specific elements of your house one by one. Add character to your house and transform it into a home you have always dreamed of.