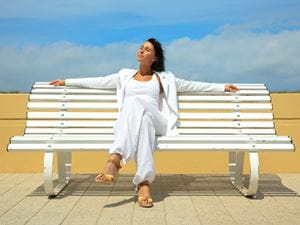 Whenever we're anxious or rushing around, we are not in command of ourselves; seen clearly, it's evident that something within us has taken charge of our life and is telling us that if we can just get here or do this, then we'll be free. So we give ourselves, willingly, to this inner taskmaster whose hardened hands push us — over and over again — to rush, rush, rush. Why? "Because then we'll move past this feeling of not having control of our lives and we'll come, at last, to the peace we're after." No! Any thought of a peace or contentment "to come" is coming to you from a part of you whose secret pleasure is your continuing unrest and discontentment. Any time you start to feel as though you're in a rush, the way to regain command over yourself right there and then is to remember that who you are and what you are is made to be changing and transforming the moment you're in. We can't have one thing more than what we are in this present moment. What God gave us, what He made us to be and made it possible for us to partake in, is now or never. It has nothing to do with a place or time to which we can rush. When you see the truth of that, don't you regain command?
If we can understand the truth of the fact that everything that it's possible for us to be — that is right, true, bright, and good — lives inside of us, and it is always working, always present, then when something says we must be someplace else in order to get something, we can look at that idea, and dismiss it. Why? Because we have the backing of Reality itself: there is never a need to rush anywhere, for all that we can hope to be already lives inside of us.
Guy Finley writes the "Letting Go" blog on Beliefnet.