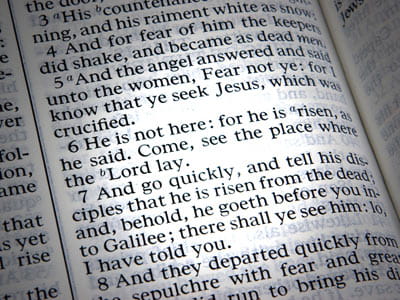 The realm of money may seem incompatible with faith, having little or nothing to do with the supernatural. Yet the Christian life is not a dichotomy of material and spiritual, natural and supernatural.
Here is an excerpt from Joan Hunter's book Supernatural Provision.
Chapter 1
Used by permission of Whitaker House
"WORD" ECONOMICS
Blessed is the man who trusts in the Lord, and whose hope is the Lord. For he shall be like a tree planted by the waters, which spreads out its roots by the river, and will not fear when heat comes; but its leaf will be green, and will not be anxious in the year of drought, nor will cease from yielding fruit.
—Jeremiah 17:7–8
When you hear the word economics, you probably think of the largely secular discipline that deals with the production, distribution, and consumption of goods and services. You may think of the stock market, which rises and plummets in an alarming pattern. You may think of taxes and tariffs and currency exchanges. The realm of money may seem incompatible with faith, having little or nothing to do with the supernatural.
Yet the Christian life is not a dichotomy of material and spiritual, natural and supernatural. Those of us who call God our Savior and
Lord know that every aspect of life has a natural and a supernatural component—economics included. Our financial wellness matters as much to God as our physical health, and we should not look at our finances from a standpoint that's informed solely by secular investment analysts and stockbrokers. No part of your life can be understood without revelation from the Holy Spirit.
Understanding divine financial provision and the supernatural flow of money requires a personal revelation from God, just like every other area of Christian experience. Men cannot understand God's methods using the world's logic, which tells us to save x dollars each year, invest in certain funds, and otherwise make our own way. Most Christians have subscribed to worldly financial thinking: only 10 to 20 percent of all churchgoers tithe faithfully, which indicates that many do not believe that God will enable them to do more with the 90 percent they keep after tithing than with the money they save by refusing to tithe. Others are ignorant of the Bible's teachings on tithing. They have not discovered that God keeps covenant with His children and provides for their needs from His inexhaustible riches in glory, not their limited incomes.
Christians must know the difference between world economics and "Word" economics—the divine ways in which God provides for His children as they advance His kingdom on earth. His Word—the Holy Bible—is the answer book for questions about the realm of personal finances, especially as it concerns the call of God on your life. In these end times, the economy of God is not the same depressing picture that the world paints, with its buzz about deflation, inflation, recession, depression, unemployment, et cetera. His economy is thriving, with enough provision for you to do everything He has planned for you. He knows what works all the time.
A Steady Constant amid an Economy in Flux
In the world's economy, it's a "buyer's market" one day, a "seller's market" the next. The stock exchange is unpredictable, with investment brokers changing their tune every day. The threat of market crashes haunts investors everywhere, so that an atmosphere of panic and confusion permeates Wall Street and financial analysts.
Who is the author of confusion? Who is the author of scare tactics and lies? We all know that it's God's opponent, Satan. Because he is God's enemy, he is also our enemy, and he will do anything and everything to discourage Christians. If he can get us to doubt God's provision and live in paranoia about unemployment, bankruptcy, and the like, he has the upper hand.
The great thing about God's economy is, it never changes. While the world's economy is in constant flux, the principles by which God's economy operates are eternal; they do not shift according to the latest trends on Wall Street. The current economic conditions do not limit God. He doesn't have more money when stocks are soaring and less when the market tanks. "The earth is the Lord's" (Exodus 9:29); He owns it all, all the time. He could turn stones into loaves of bread if He chose to. (See Matthew 4:3–4.) He used ravens to feed the prophet Elijah. (See 1 Kings 17:6.) He supplied sustenance for Noah and the other inhabitants of the ark during the great flood. (See Genesis 6:13–9:1.) He can provide for those who trust Him in any situation.