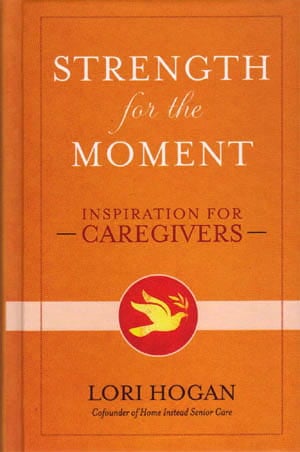 Strength for the Moment
In the U.S. today, more than 70 million Americans, nearly one-third of the adult population, provide care for their elderly parents or relatives. Caregiving can be rewarding, but it's also a responsibility that comes with high stress, and family strain, according to author Lori Hogan, whose new book, Strength for the Moment (IMAGE/Random House), celebrates, encourages and offers support to caregivers as they give of themselves to provide compassionate care for their loved ones. Lori Hogan writes from personal experience as co-founder of Home Instead Senior Care, the world's premiere home care company. Faith is such an important factor in how we care for our aging parents and loved ones," says Hogan. "Faith provides hope and encouragement for the caregiver's soul." In fact, a new Marist Poll survey conducted for Home Instead on the subject of aging in America, found that those for whom faith is a dominant part of life view their lives far more positively than those for whom it is not. This data is part of a GOLD Indicator (Gauging Overall Life Dimensions), the first of an annual survey to assess how Americans view their lives based on 10 indicators of satisfaction.
The study, titled "Generation to Generation: Gauging the Golden Years," found that Americans who practice faith rated their quality of life better across all ten life dimensions studied – family, neighborhood safety, housing situation, spiritual life, health, friends, work or how days are spent, free time, finances and community involvement.
Strength for the Moment is a first of its kind book dedicated to providing inspiration to caregivers. The book's 52 uplifting stories explore the wide range of emotions caregivers experience and provide support and encouragement through prayers, scripture verses and practical advice. Lori's caregiving experience began with a brother, who had special needs. She raised four children and also cared for her grandparents. She realized that the simple act of caring for a loved one had amazing power that could heal broken relationships, restore self-confidence and clarify life priorities. She also realized that being a caregiver is often physically and emotionally exhausting.
Strength for the Moment honors caregivers. "I wrote the book to affirm and encourage them in their labor of love, since a family caregiver, over time, can pay a high emotional, physical, social and financial price for their unselfish acts," she says.

Top 10 Lessons for Caregivers to Take Care of Themselves

1. Ask for help.
2. Be patient.
3. Treat yourself.
4. Take a break.
5. Keep moving.
6. Don't avoid the doctor.
7. Avoid junk food.
8. Maintain a sense of humor.
9. Pray.
10. Look to God.
ABOUT THE AUTHOR
In 1994, Lori Hogan with her husband, Paul, founded Home Instead Senior Care, after Paul's family experienced the challenge of caregiving for his grandmother. Home Instead has provided services to a million clients through a network of nearly 1,000 offices located in the U.S. and 15 countries. The Hogan's 2009 book, Stages of Senior Care: Your Step-by-Step Guide to Making the Best Decisions, a response to the lack of information available to families as they make important senior care decisions, was a USA Today bestseller.
*METHODOLOGY
The survey was undertaken by Home Instead Senior Care and conducted by the Marist Institute for Public Opinion at Marist College in Poughkeepsie, New York. 1,235 adults 18 years of age and older residing in the continental United States were interviewed by telephone from September 26, 2011, through September 29, 2011. Telephone numbers were selected based upon a list of telephone exchanges from throughout the nation. The exchanges were selected to ensure that each region was represented in proportion to its population. To increase coverage, the land-line sample was supplemented by respondents reached through random dialing of cell phone numbers. The two samples were then combined. Results are statistically significant within ±2.8 percentage points. The error margin increases for cross-tabulations. Please note that some totals may not add to 100% due to rounding.

For more information please visit http://StrengthForTheMoment.com