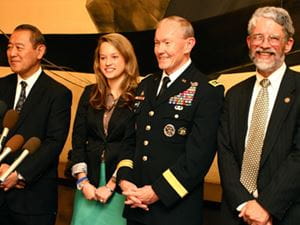 On March 5th, I attended the Great Eastern Japan Earthquake and Tsunami Remembrance and Recovery reception at the Japanese Ambassador's home. As the one year anniversary of the Tohuku Earthquake and Tsunami, it was a time to remember the loved ones lost and acknowledge the efforts made in Japan's recovery. For myself, it is a time of reflection. It has been 1 year since my sister's death caused by the tsunami, and a lot has changed. As a representative for my sister's foundation, The Taylor Anderson '04 Memorial Gift Fund, I was invited to speak about her foundation and our efforts with the recovery of Japan. General Dempsey, the Chairman of the Joint Chiefs of Staff, and the Ambassador Fujisaki also spoke during the reception and recapped on the United State's friendship with Japan.
This reception was an incredible opportunity to meet other supporters of Japan and share my sister's dream. Taylor read and wrote a report on some of the works of Haruki Murakami one summer at Randolph Macon College. One of her conclusions from what she read was there is a need for connections among people in order to solve problems. What we do with Taylor's fund is all about making the connections and forming the relationships needed for recovery. We always felt when Taylor first went missing after the earthquake and tsunami that she was probably in a shelter or school helping and being helped by others. When it turned out that she was one of the thousands in that area of Ishinomaki who could not escape the tsunami we instantly thought she would want us to help as she would have done. The Fujisaki's were instrumental in connecting us to the people in Japan who could keep Taylor's dream alive for her students, families and schools.
What we are doing now and hope to do for years to come is to build on Taylor's dream to be a bridge between our two countries. One level of connection that will take many years to solve is how displaced families go forward. They are perhaps in a shelter now and there are so many decisions to be made that will affect whether they start over somewhere else or return to their family home.
While those decisions are being made we think Taylor's focus would be on her students. That is the connection we are working on making with Taylor's fund. Those children will continue to be nurtured by their parents and teachers. And this is where Taylor's fund is helping. One example is the Taylor Anderson Reading Corners or Bunkos that will be at each of the seven schools in which Taylor taught.
The Taylor Bunkos are about trying to help students learn what their dreams are and the inspiration to live them. Part of what we told the students at the September 6thTaylor Bunko Dedication was:
quote "The Dedication on the bookshelf and the book labels read "In memory of Taylor Anderson and all loved ones lost on March 11, 2011".
We will never be at peace with losing Taylor and we share that feeling with the many others who lost loved ones on March 11. What we can be at peace with is how well we honor and remember them. And most of all, how well we are inspired and follow their good examples.
Reading inspired Taylor to live her dreams and we hope the books and computer software will help inspire you to find and live yours.
We hope when you think of the Taylor Bunko you think of finding your dreams and having the courage and energy to live them. That would make Taylor happy. But we hope most of all that you remember this gift is from the love that Taylor had for you, her students." End quote
Her fund is also helping support Children's homes through Smile Kids Japan including helping a high school senior go to college. Funds have been donated to help the more than 200 orphans from the Tohoku disaster be able to stay in the homes of a relative rather than go to a children's home. Also, many universities have provided scholarships for Tohoku students affected by the disaster, but the students' families must pay entrance exam fees approaching $3000 to be able to take advantage of the scholarships. Taylor's fund has and will help with these fees. Long term, Taylor's fund will support Exchange and Scholarship programs for years to come all with the idea of helping students live their dreams as Taylor did, and with the help of St. Catherine's we are able to spend 100% of the money donated on these efforts in Japan.
So these are some of the connections we are making to help with recovery. Another part of recovery is healing from loss. Endo-san is the bookshelf maker for the Taylor Bunko's and he and his wife lost all three of their children. Two of his children had Taylor as their teacher and had talked to him about her. We met him last September and learned how he made the bookshelves and shared our condolences. We were happy to hear last week that Endo-san and his wife are reading to students at the newly installed Taylor Bunko in their children's school, Watanoha Elementary. That warmed our hearts. Our connection through Taylor is helping both of our families heal and go forward to live our dreams as we know Taylor would want us to do.
At the reception I was able to speak with General Dempsey, Ambassador Fujisaki, head nuclear scientists, and other concerned supporters about Taylor's dream and how we all intend to continue to support Japan through this recovery.