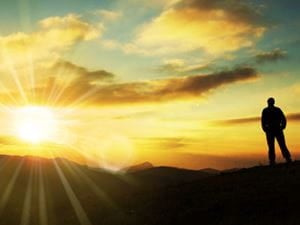 It's been a while since I left you
and I know you bear a heavy heart.
For years we were the best of friends
and in your eyes, we're now apart.
Though it may be true my idle feet
no longer tread the grounds of earth,
it is you who can truly justify
what the steps they took are worth.
Realize now that I am only gone
if you choose for me to be . . .
if you hesitate to speak my name
or recall each memory.
If you reject the image of my face
because it brings you pain,
then my life, my love, my laughter
will all have been in vain.
I know you miss my presence
from the steady tears upon your face,
but these tears you cry are not for me,
for I am in a better place.
I am no longer suffering.
I feel no pain, nor have I sorrow.
I've gone forward to this beautiful place
to spend today and every tomorrow.
So laugh at our jokes, remember our time
and freely speak my name.
If you'll relive our years together,
then it won't be an end that came.
Embrace the things we've shared;
revisit places we have been.
Keep me alive within your heart
and I will never die again.
Yes, it's true that it won't be the same
and the same . . . it will never be,
but I will always be by your side
if you will always remember me.
From Live Your Dash ©2011 by Linda Ellis. Used with permission from Sterling Publishing Co., Inc.