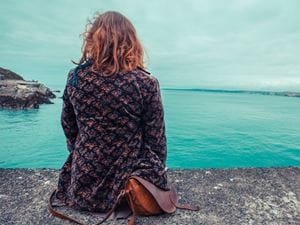 Shutterstock.com
Many of us have cried out, "God, help me!" during a particular time need. Throughout the Bible, God often led His people to cry out. If you look at the Psalms, you will often see the psalmist crying out to God. A lot of the things we are experiencing now are the same things that people experienced during biblical times. Stress, fear, anxiety and pain were all emotions that people of those times also experienced in their personal lives. Given this, the Psalms provide are a great source of wisdom and strength for every conceivable difficult. They can also help when our outlook appears utterly hopeless. There is tremendous power when we cry out to God.
Have you ever felt like life keeps getting worse and worse? Many of us know what it feels like for everything in life feels like it's falling apart. Many of us also know what it's like to be depressed and feel like you're at the bottom of a dark, deep well, looking up and thinking you're never going to crawl your way to the top. If you've had this experience or are going through this right now, turn to Psalm 40. This is a song about the pits. Verse 1 says, "I waited patiently for the Lord; He turned to me and heard my cry." In the first half of the psalm, verses 1-10, David, the psalmist tells how God got him out of one pit and he sings His praise for doing so. But life was not perfect after this. Rather, it is evident from the second half of the psalm, verses 11-17, that he is in another pit, crying out to the Lord to deliver him from the next one. Because David waited intently on the Lord to rescue him from the first pit, he knew how to wait on the Lord to get him out of the second pit. When you're in the pit, wait intently on the Lord and proclaim His goodness when He answers. The pit in your life could be any of a number of life's trials. The pit can be anything from a breakdown with one of your closest friends, a physical illness, the loss of a job or deep emotional stress. You may be responsible for being in your pit, or you may be a victim of the sin of others. Regardless of the circumstances, trust in God's timing which often does not coincide with our timing.
How many times have you said in life, "This just isn't fair?" While life isn't always fair, God is always just. Psalm 89:14 says, "Righteousness and justice are the foundation of Your throne." Our God is a God of justice meaning He makes wrong things right. However, there are many times we have to go through painful circumstances we don't understand while He's working on our behalf to bring justice in our lives. IF you are confused about God's plan for your life, you can turn to Psalm 73. Verses 16-17 say, "When I tried to understand all this it was oppressive to me till I entered the sanctuary of God then I understood their final destiny." The reason this is a favorite psalm for many Christian believers is because the words ring true to their experience. In the midst of suffering believers often feel cheated and begin to doubt God's goodness. Under these circumstances, this Psalm helps believers be honest with God. It helps us transition from radical doubt to a reaffirmation of faith. Because of this, it has proved to be an enduring source of comfort amidst suffering. Faith in God is the key to trusting Him in every circumstance. Walking by faith means when there are unanswered questions, we can be OK with that because God is in control. When we fully surrender ourselves to God and His will, we're determined to trust Him no matter what.
If you are drowning in anxiety and stress, turn to Psalm 94. Verse 19 says, "When anxiety is great within me, your consolation brought joy to my soul." God doesn't promise that every day will be joyful. In fact, we know from Scripture that the opposite is true. Mother Teresa once said, "The best way to show my gratitude is to accept everything, even my problems with joy." Choosing joy is being able to see God's goodness even when life is hard and messy and your problems don't seem to be going anywhere. One reason joy is important in the Christian life is because of our salvation. Jesus promoted joy and for great reason. Our joy is a sign to others that we are different because of our salvation. Many non-Christians have said to Christians that their deep internal joy is something that they admire. This joy we exemplify should set us apart from others in a way that makes others desire what we have. You can find joy in every day, not because life is always good, but because God is.
A Psalm you can turn to when you are feeling overwhelmed by your own neediness is Psalm 86. Verse 1 starts with the words, "Hear me, LORD, and answer me, for I am poor and needy." This Psalm begins with a plea to God. As we move to verse 11, the psalmist says, "Teach me your way, O LORD and I will walk in your truth; give me an undivided heart that I may fear your name." One of the biggest mistakes people make when they're feeling overwhelmed is focusing on the problem. We don't look to God. We put our eyes on the problem instead. What are you focusing on right now? If you're discouraged, it's not God. You can't be discouraged and also focus on God at the same time. If you turn to God first, talk to Him about your problem and trust Him to help you through it. Start by letting God know that you need Him. As you do this, begin to lay it all out before Him. It's OK to say out loud that you're poor in mind and spirit and that you need God now more than ever. Acknowledge to God that your soul is in desperate need of His strength, or you are broken and your spirit is poor, humbled and contrite before Him.
God knows the issues we face and He promises to cover the entire range of our needs, troubles and problems. He wants us to call on Him in our times of need. When we are facing a difficulty in our life, it's easy for us to turn to everyone and everything but God. We get lost trying to find something or someone to fill the void we are feeling, when what we are really searching for is God.
Many wonder what God wants them to do if He doesn't want them to fight in the battle and what they are supposed to do when they are facing an overwhelming situation. God's answer is a desire for you to stand strong. The Psalms are a great place to turn when life gets miserable.
One of the most important truths you have to learn in life is it is never God's will for you to run from a difficult situation. When you begin to run, He's going to bring the situation up again until you learn that He's sufficient in every situation. It's easy to quit praying when things get tough, but it's so important that we don't. When you feel like your life is miserable, cry out to God. While our Heavenly Father does not give us everything we want, He does fulfill His promises. When we trust in these promises, they lead us closer to Him.