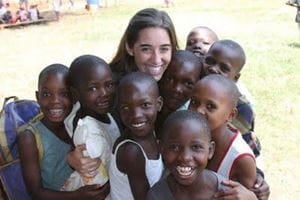 Forget cheeseburgers, shopping and dating. Katie Davis, a former homecoming queen from Ravenwood High, Brentwood, Tenn., could have enrolled in any university and established a solid social life, until God radically stepped in.
Davis traveled five years ago to Uganda with the intentions that she would be there for a year and then start college. During her trip she taught kindergarten and noticed students stopped attending because parents couldn't afford the educational costs or they died, sending the children to orphanages.
God tugged on her heart and the girl with moxie accepted. Davis asked for donations and volunteers to provide support for children and adults. Then she dropped a bomb on her parents that Africa would become her new home.
"My parents definitely were not for it," Davis smiled. "They thought I had gone a little crazy--I don't even know what they thought. They have absolutely become 100 percent supportive."
This would open the next chapter in Davis' life.
"I never planned this for my life. It was just one little step of obedience at a time," she said. "The next straight thing was to go to Uganda. The next straight thing would be to let people who don't have a home, live in your house. The next straight thing is to feed this child. It was continuing on that path of saying "Yes" to the next person God placed in front of me."
Davis (left) was only 19 when she founded Amazima Ministries and raised eyebrows by becoming a mother of 13 Ugandan orphaned children in the village of Jinja, Uganda. Amazima feeds and educates about 2,500 Ugandan children and is planning to create a community farm and teach adults skills so they can become self-sufficient.
"I thought: 'OK God, can I really do this?' It's so much responsibility. I can remember all the tiny details he's orchestrated perfectly to bring us together as a family," Davis said. "In that, there's no room for doubt."
Amazima in the Lugandan language means "Truth," a word Davis took from her favorite scripture in John 8:32: "And you will know the truth, and the truth will set you free."
Davis is wielding the power of God's love to free children, like Agnes.
Agnes, 9, was raising her seven-year-old and five-year-old sisters after her father died.
"It was really hard for her to have a mom," Davis recalled. "She was used to calling the shots, because for a couple of years now, she didn't have any parents. That's a huge burden for a child to have to carry. I remember she used wake up in the morning and get a jerry can and go outside to collect water. I told her: 'You don't have to collect water. We already have water.' To watch her reclaim her childhood has been real powerful."
Davis is also transparent about her own struggles.
"The first month, I loved living there; you have all this love from these children," Davis explained. "The next month, I feel that I'm tired of washing my hair in a bucket and I would just like a cheeseburger! Spiritually, I had to rely so much on God. As God stripped away all things that I was dependent on, I was able to grow closer to him. He's a part of every decision in Uganda."
Davis came to the states to share her testimony and to promote her book, Kisses from Katie, with two of her little girls, Patricia, age 3, and Grace, 5. Her 11 children remained in Jinja. Beliefnet met Patricia; a precocious girl, hugging on her grandpa in the green room of the Christian Broadcast Network. Her younger sister Grace was in Nashville receiving surgery on her heel to improve her walking.
Davis wrote this entry on her Kisses from Katie blog before the media frenzy. It encourages believers to refocus on living for God and his kingdom, regardless of the pressures:
"The book releases in October. I know what this means: more eyes on us. I struggle with the thought of it. All I want is more eyes on Him. I am just a broken mess, grabbing for His feet, reaching out to touch His cloak, thankful for His mercy that washes over me. I am just a little girl, relieved to crawl into His lap and curl up there."
Check out this amazing woman at http://www.amazima.org/index.html and http://www.kissesfromkatie.blogspot.com.
What is it about a short quotation that carries so much power? Anyone who has ever been moved by "I have a dream" or "I think, therefore I am" knows that a single, simple quote can change a day, a life, a world.
For those who suffer from depression, words of uplift and inspiration are always welcome. Explore these quotations and see if a few simple words might change your day, your life, or your world.
CLICK HERE to buy Kisses From Katie: A Story of Relentless Love and Redemption on Amazon