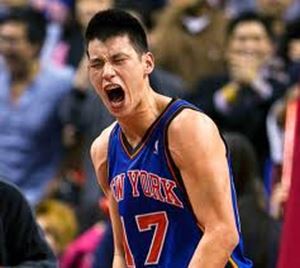 "Linsanity" is sweeping the nation and even President Barack Obama is tracking this story. What is this phenomenon?
New York Knicks point guard Jeremy Lin.

The Harvard product has recorded over 25 points per game since he was on the brink of being waived and competing for a backup spot.
God intervened.
After New York squandered a lead on Feb. 3 against the Boston Celtics, coach Mike D'Antoni offered Lin a chance to play the next night against the New Jersey Nets.
D'Antoni called it luck?
Lin went on to prove he was worthy by collecting 25 points in the game and averaging 20 points with seven assists. He even passed Shaquille O'Neal's record for the most points scored as a starter in his first five games.
The Knicks are 5-0 with the 23 year old playing. Good for him and good for New Yorkers who have ached for a surge like this in years.
Lin is playing it cool.
"Sometimes you come up against a mountain and you end up making the mountain seem bigger than God," he told the Mercury News.
Lin, who was waived by the Golden State Warriors and the Houston Rockets, does not want to talk about his performance to reporters, unless it is about his spiritual life. It was reported that David Letterman was turned down.
It's all about God.
Before "Linsanity" there were bouts of anxiety about his future. He also told the newspaper that he would calm fears by repeating Romans 8:28 to himself.
"There is so much temptation to hold on to my career even more now," Lin said.
The devout Christian is learning to trust God more during the media frenzy.
"To try to micromanage and dictate every little aspect. But that's not how I want to do things anymore. I'm thinking about how can. I trust God more. How can I surrender more? How can I bring him more glory?"