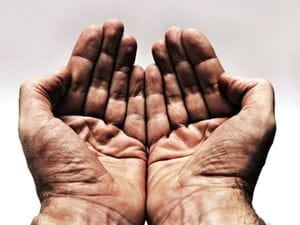 Best-selling author Joan Hunter explains you can be free from debt and live the life God desires. You can have this supernatural provision and financial freedom during economic storms. How can you achieve this? By tithing, obeying God and declaring his Word over your life. Talk about your book Supernatural Provision.
What do you want the money for? That's the bottom line. So you want the money to have the biggest house in the world or do you want to fund the kingdom of God? You can have all the things in the world as long as the things of this world don't have you. Take a look at your checkbook and your credit card expenses. Where are your priorities? This gives you freedom of giving and not just the law of tithing and that you get to give out of love, not out of law. What happens is you open up the windows of heaven. Many times as Christians we allow the enemy to steal from us, instead of saying "Stop, I command this car to quick breaking down!"
People feel unworthy.
Often too many times people don't even think that they are worth having a new car.
God is looking for people he can funnel funds through [someone] that he can trust. I had a lady that I prophesied that God was giving her a new car. "I don't need a new car," she said. I asked "Are you saying no?" This is the mentality of Christians.
So, it's that poverty mentality.
Absolutely. I deal with the poverty mindset in the book. I dealt with a guy who thought it was wrong to have finances. Let's get go back to the lady I prophesied about the new car. "You are going to say no to a new car?" I got on her, and she's in full-time ministry and prophesied. I said, you as an example need to learn how to receive from God. He just wants to bless you beyond what you can ever hope, dream or imagine.
You talk about correlating tithing checks to scriptures that you're standing on, whether for provision or for healing. What do you mean?
For example, just say you're getting paid 1,000 dollars. Some people have to tithe 100 dollars. We'll you don't have to—you get to. So why don't you give 11 dollars based on Deuteronomy 1:11 and be free with your giving. ["May the LORD, the God of your fathers, increase you a thousand-fold more than you are and bless you, just as He has promised."] When you free your hand up. God is going to free his hand up, too.
Why are we not getting this?
Many times people are afraid. Many people say they are afraid to tithe. Well, you can't afford not tithe. I've had lack mainly one time in my life, going through divorce and different things like that and had to start my life over. I didn't have much income, but I never went without. God supernaturally met my every need. We tend to look in the natural. "Well, I'm not a beggar, you might say." You're not begging. Say Father, I thank you that according to Philippians 4:19 you are going to supply on my needs. And according to Psalm 34, you are going to bless me. The birds of the air don't have to worry about where their shelter is coming from. He loves us so much more than a bird. We need to understand how much we mean to God. When this [book] came out at the end of October, the beginning of November, I have 10s of thousands of testimonies [of applying these principles].