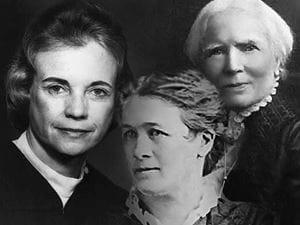 There is no doubt that women have played a significant role in American history. They fought to become doctors, politicians and lawyers during a climate when women were considered to be property of men. They were beaten and banned from the public square if they voiced their opinions. Women were and are tenacious fighters with a badge of strength that unequivocally can't be denied. The pages of history are marked with failure and triumph for those who pushed on ahead to serve others and to advance their causes.
During the 18th century, the first women's rights convention was held in 1848 to discuss social and civil rights of women. Another famous first during that time was when Wyoming declared that every woman of the age of 21 may vote in any election in 1869. The territorial legislature of the state moved with brilliance to outlast the Congress, which lobbied to stop the law. A woman of the name of Victoria Woodhull became the first female to run for president for the Equal Rights Party and chose famous abolitionist Fredrick Douglas a few years later. This was unprecedented for a woman and it put a bull's-eye on her back. As gutsy as this Ohio native was, most women could not vote until the ratification of the 19th amendment in 1920. If there is any curiosity regarding the atmosphere of our female warriors, many white men believed that if a woman attended medical school that it would render them infertile. We know our American crusaders did not stop there. Here are American firsts by women, who persevered and laid out the foundation for future generations.
Susan La Flesche
She was called the warrior of her people. Susan La Flesche overcame racial and gender inequality to become the first American Indian doctor on the Omaha reservation. She cared for 1,244 patients across 1,350 miles that included rolling hills and rough terrain on her horse and buggy. She received her medical degree in 1889 at the Women's Medical College of Pennsylvania and was the first to receive funding for college from the U.S. Office of Indian Affairs. This was before women could even vote and before her people could become citizens of their own country.
Rebecca Lee Crumpler
Another woman pressed through issues the of the day to become the first African-American woman physician in the United States. She was told that medical matters were too sensitive for women. She entered an all white school called the New England Female Medical College in 1860 and volunteered in Richmond, Va. after the Civil War. Crumpler also donated her time to help those coming out of slavery. Many of them were sick, weak and needed a physician's care.
Mary Katherine Goddard
Newspapers were essential to communicate during the 17th century and the colonists came to rely on them to get updates on the Revolutionary War. Mary Katherine Goddard became the first woman publisher of the Providence Gazette newspaper in 1766 and was the first to print the Declaration of Independence with all the names of the signers, another first! She was also the first postmaster in colonial America and opened up her own bookstore.
Sandra Day O'Connor
Ronald Reagan nominated Sandra Day O'Connor as the first associate justice to the U.S. Supreme Court in 1981 who was a moderate conservative. She was considered a firm, but just judge and broke ground for many women. Before she was nominated O'Connor was the Assistant Attorney General in the Arizona Senate. It was not only a breakthrough on the bench as Time Magazine reported, but the decision pushed "forward in the shamefully long and needlessly tortuous march of women toward full equality in American society." More women attended law school after the selection.
Billie Jean King
She was tough as nails and proved to all men that a woman can get the job done. Tennis legend Billie Jean King competed against tennis player Bobby Riggs in "The Battle of the Sexes" exhibition game at the Houston Astrodome in 1973. Riggs was a former Wimbledon champion, who said he could beat any female player and spiced up the event with misogynist comments. "I'll play her on clay, grass, wood, cement, marble or roller skates," he joked. Riggs also said that "women belong in the bedroom and kitchen, in that order." Billie Jean King proved him wrong. She won the match and went on to show men everywhere that female athletes are a true force and a true talent.
Eleanor Roosevelt
She was no ordinary First Lady. Eleanor Roosevelt was the first to create the Universal Declaration of Human Rights as a common standard for all people and all nations. It was proclaimed by the United Nations General Assembly in Paris in 1948 that all people have fundamental rights. Roosevelt was a champion for civil rights for African Americans and an early advocate for women. Roosevelt was activity involved in the country in the middle of the Great Depression and encouraged her husband (Franklin) to appoint women to his cabinet. She was the first to invite female reporters to the White House another decision that went against culture at the time.
There are many inspirational stories that have been published over the years. We can reflect on the present day and thank those who battled against severe odds to succeed. There is always a disconnect we do feel when we reading pioneering stories. The belief that you will never understand what another has been through unless you walk in their shoes holds validity. We can only empathize with those who worked to change the world and our perception of it. What makes the women that we found remarkable is that they didn't act in hate, although some had the right to. This distinguishes them as being categorically remarkable. Yet, there are many women who were pioneers who never made the headlines. Maybe we will uncover more of their stories so they can be honored. As we look towards tomorrow, we still have glass ceilings to break. The question is, will we finally smash them?