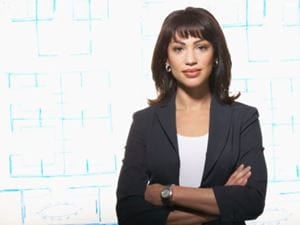 The fact that you're standing here today with breath in your lungs testifies that God has a plan and purpose for you on this earth. Jesus wants you to live with bold confidence in His promises and humble dependence on His voice. He plans to transform you into a woman of purpose and lead you to places you could never otherwise go apart from Him.
What's so beautiful about our call is that God knows full well whom He's getting when He calls us.
In his book Holy Ambition, Chip Ingram reflects on the people God loves to use:
God has chosen very regular, ordinary, common people just like you and me to accomplish the biggest events in all of human history. He used a teenage girl to bring His Son into this planet. He used a blue-collar worker to raise Him from childhood and teach Him about a life of integrity and worship. He used common fishermen to lay the foundation for the greatest revolution that has ever touched the world. And God wants to use you and God wants to use me in the same ways.
God's will for you is your best-case scenario. I marvel at how He lovingly takes our broken pieces, our tangled-up fears, our worst mistakes, and creates a mosaic of beauty that impacts the world.
Consider the desires in your heart. Pay attention to stories that stir up your passions. Dare to believe that He wants to use the gifts He's imparted to you. He's the one who put desires in you that He might fulfill His purposes for you. He can even use the worst things you've ever done, or the worst things that have ever happened to you, to change the world through you. He desires to transform you into a humble, bold, healed, and confident woman who trusts Jesus with her every breath.
What kind of life did God promise us? Not an easy one. But a powerful, world-changing, redemptive, miraculous life that overcomes hardship, defies the odds, defeats the giants, and conquers fears.
If we take God at His word, He'll take us places and work through us in ways that will cause others who knew us when, to step back, shake their heads, and say, "There has to be a God in heaven; no way could she have accomplished those things or become that person on her own."
Jesus promised us an abundant life, which in essence involves copious amounts of fruitfulness, lavish amounts of love, abundant supplies of strength and courage, and profuse amounts of generosity. Jesus came to give us life. Satan came to steal it from us, to kill our dreams and our passion, and destroy every hint of God-inspired sparkle and verve within us (see John 10:10).
Jesus also promised that during our time on earth, we'd encounter hardship, trials, and tribulations (see John 16:33). We'll be misjudged, mistreated, and misunderstood. Satan will do everything he can to take us out. But here comes another promise: Overwhelming victory is ours in Christ Jesus (see Romans 8:37)!
Search the Scriptures yourself and you'll see verse after verse that speaks to our calling—our purpose—and of God's faithfulness to His promises. Perhaps the most compelling verse for me when it comes to our pre-ordained purpose on earth is Ephesians 2:10: "For we are God's masterpiece. He has created us anew in Christ Jesus, so we can do the good things he planned for us long ago" (NLT).
Do you actually believe that God wants to use you? That He has a beautiful assignment just for you? Are you ready to grab hold of God's promises right here, right now, no matter what your circumstances may be telling you? Will you dare to believe that God is working in you today to get you where you need to go tomorrow?
God is for you and loves the idea of using you for His great glory. You have a divine appointment to live an overabundant, more-than-fruitful life. Will you trust Him enough to look up and give Him your yes? I pray you will.
Jesus created you with a very specific purpose in mind. To live the powerful, significant life assigned to you by God, you must—with God at your side—confront the bullies of fear, insecurity, and inferiority. You must be gritty enough to walk by faith, be tenacious enough to grab hold of His promises and never let go, and be humble enough to admit that you need Him every single hour. He beckons you toward a battle, but you stand on the winning side.
Look for Him in your circumstances and you'll find Him there. May you dare to dream with God! You don't need to look to other women and long for their lives and callings. You don't need to be captivated by your fears.
No one and nothing can deter you from your calling—not your obstacles, not the woman you constantly compare yourself to, and not even your past sins and missteps. Only unbelief can keep you chained to mediocrity and a less-than life. Will you trust Jesus and begin to move forward in faith? You have this one life to live. What will you do with what Christ has offered you? Will you spend your energy trying to present well, save face, and pretend you're not insecure? Or will you get real, face down your fears, and embrace the God-confident, significant life you were made for?
Do you know that the devil sees your potential with greater clarity than you do? That's why he works overtime to keep you from seeing who you really are in Christ. Lord willing, this book will teach you how to fight, how to stand, and how to move forward into the purposes God planned for you long ago. You'll learn how to trust God's timing and better discern His voice as you take each promised step on your journey.
May God open your eyes to all He has imparted to you! I dare you to dream with God and walk out His stunning purpose for you.
As a beautifully loved woman of God, you need only to look to Him who leads you joyfully with triumph.
Adapted from Your Beautiful Purpose by Susie Larson
Trade paper ISBN 9780764210662 / ebook ISBN 9781441261137