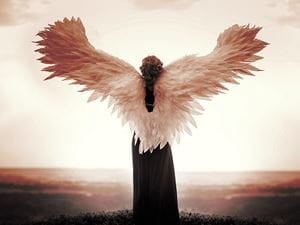 Shutterstock.com
Angels are spiritual beings with a much different frequency compared to humans and they roam the earth as we live out our daily lives. They act as messengers to safeguard us through our wanderings on earth. Angels may come through thoughts, visions, dreams, prayers and people. They can also channel into us acumen from the beyond. Angels are a reminder of God's protection of us as well. We all know about Michael the Archangel as he was in command of the welfare of the Jewish people. Daniel 10:21 indicated: "However, I will tell you what is inscribed in the writing of truth. Yet there is no one who stands firmly with me against these forces except Michael your prince." Angels are more than folklore, they are part of our course towards enlightenment. Since God is all-knowing, we must realize that angels will always be part of our environment. But how do we know when they show up? All you need to do is look for the evidence.
You will find feathers.
Finding feathers are signs of angels and they're part of ascension and a spiritual metamorphosis. Feathers of any color are a reminder that angels are near. A white feather means confidence and assurance. "When you find white feathers in peculiar locations the message is especially significant. This is often just to reassure you that your angels are around you, working with you, and answering your prayers," author
Sharon Taphorn
wrote. Whenever you see a white feather, it's also a reminder to keep the faith. If you see blue, it means calmness. Red feathers signify endurance and orange feathers mean we need to listen to our inner voice. Yellow is often a good reminder to be optimistic and to receive happiness that is being given. Green feathers signify bounty, opportunity and could mean devotion.
They're sometimes forceful.
Peter's miraculous escape from prison, in Acts 12, is done with the aid of an angel in Acts 12:1-10. Peter is sleeping in his cell and is roused by an angel, who causes the chains to fall from his wrists, and who then accompanies him on a safe route out of the city. More recently, Dr. Ron Phillip encountered an angel like Paul did when his car hit a snow embankment. When he cried out to God to help him, the Lord told him to call on the angels for cooperation. He did and then a dazzling light appeared in the passenger seat as the angel intervened. The police at the scene wished him and the passenger a safe drive home.
They're represented by color.
Angels can be associated with color. Brown represents the Archangel Sandalphon who governs over matter, science, wisdom and success. The color brown keeps us grounded and is associated with angels of wisdom and knowledge. Gray represents initiation, mediumship and clairvoyance. Tsadkiel is the Archangel of prosperity, wealth and rewards and is also correlated with angels of luck, work, wealth and welfare. Tsadkiel can be symbolized by the color blue, the sign for infinity. If you see green or turquoise, Haniel may be nearby and it is said they represent healing. Some people also believe vibrational wavelengths for yellow, blue, pink, white, green, red and purple attract the angels that have similar kinds of energy.
They're represented by butterflies.
A butterfly helps angels move along the earth. They represent conversion and reflection. They signify spiritual rebirth, creativity, potential and change. When you see a butterfly slow down as it could be a sign from a loved one from Heaven. A butterfly is a sign of prosperity and one of hope. Many times angels will send them to get you to slow down in life. Experts recommend when connecting with angels, you are really preparing yourself to receive communication from them. Your awareness heightens, your consciousness rises and your senses start to expand. When you do this, don't be surprised if you observe more butterflies in life.
They're represented by coins.
Ever notice that you keep finding coins all over the house or in your car? Coins may also be a message that you are not alone. Your angels could be trying to reassure that you will be fine physically, emotionally and spiritually. Coins are found all over the place in pockets, bags, chairs and in other places. This is a great way to get your attention by an angel or a loved one. "This gives angels, guides, and loved ones in spirit an opportunity to re-align a few coins to position them onto your path without harming, scaring, or adversely affecting you or anyone else," askangel.com suggested. Using coins is a great medium because when the light hits, they flash, and this makes it easier for angels to get your attention.
God said He will command "His angels concerning you to guard you in all your ways. On their hands, they will bear you up, lest you strike your foot against a stone," Psalm 91:11-12 reads. His faithful spirits come from Him and they are the support we need during our commission on earth. The further you connect with angels and apply the divine guidance, the more you will notice them in life. The presence of angels will always be with you as they're perpetually in the "Presence of my Heavenly Father," Jesus said.