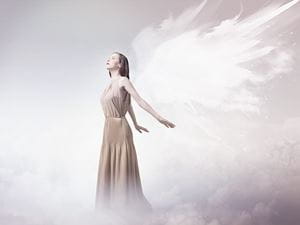 Shutterstock.com
Millions of people around the world believe in angels. According to a CBS News poll, 77 percent of Americans believe in guardian angels. Even famous people have reported encounters with these celestial beings. While living in a van in Hawaii, feeling lost and unsure, Chris Pratt says he encountered a messenger from heaven. He told Esquire Magazine that a man named Henry walked up to him and said God had told him to speak to Pratt. "He should have made me nervous," the Jurassic Park star said, "but he didn't." Henry told Pratt, "Jesus told me to stop and speak to you. He said to tell you you're destined for great things." Denzel Washington said he saw an angel as a child. He said, "When I was a young boy, I saw an angel. It looked like my sister, but then I saw her wings." He had another mystical encounter a few years later. Guideposts reports that while sitting in his mom's salon, a woman walked up to Washington and said, "I have a prophecy. You are going to travel the world and speak to millions of people."
But we don't have to be famous or even religious to experience the miraculous help of our angels. A Beliefnet reader sent me an email shortly after my article on connecting with your angels for help and healing came out. Joan said the Christmas after her mom died was especially hard. She was dealing with a recent divorce, and now the grief of her mom's passing, making her question her faith. She wrote, "My mom was the loving force that anchored me to my faith. Without her, I felt lost." Day after day, even getting out of bed was a struggle. Joan's two children kept asking when they would put up the tree. But Joan said, "Facing the demands of work and caring for two children on my own were overwhelming. I couldn't even think about putting on a cheery mask to decorate a tree."
One morning in early December, Joan stayed in bed and prayed. "Dear God, if there are angels with mom and watching over me, please send them to me. I need your comfort and guidance." Later that day, while waiting in line at a grocery store, an older woman tapped her on the shoulder. "Ma'am," she said, "excuse me for bothering you, but I'm a little bit psychic. There's a lovely, sweet angel standing with you. She wants you to know that you are loved. She's saying, 'Hang in there. It will get better in the new year.'" Joan left the grocery store feeling stunned and comforted. But by the time she was halfway home, she'd already talked herself out of the mystical experience. Still, she wondered, could this be the answer to her prayer that morning? Before she could ponder this any longer, a car pulled out in front of Joan's car. She slammed on her breaks, avoiding an accident, and then gasped when she saw the license plate on the car in front of her. It said, "Believe." After this encounter, Joan came home filled with the love and magic of Christmas. She and the children decorated the whole house for the holidays, and she's happy to report that life did get better in the new year.
Some of our angelic encounters are even witnessed by others. In 2015, a young pastor was driving his family home in Columbus, Ohio, when an oncoming car crossed into his lane. Pastor John Boston swerved to avoid a collision causing his car to slam into a utility pole, which sent a live transformer careening into his car.
Thousands of bolts of electricity slammed the car. Boston remembers watching in horror as the windshield melted. His seatbelt was stuck, which meant he couldn't help his wife or his four -year-old daughter. Boston told
Fox 8 News
that's when a stranger appeared out of nowhere and easily opened the car door, moving the family twenty yards away from the burning vehicle. He said, "My name is Johnny; the police are almost here, and I can't be here when they get here, but you're gonna be okay." And then Johnny just walked away. The Columbus, Ohio firefighters who arrived on the scene told reporters that with a live transformer in the car, Johnny shouldn't have been able to touch that car. Firefighter J.D Vasbinder said the circuit breaker could have tripped, but they are designed to reset themselves. Plus, he added, electricity was still searing through the car when they arrived on the scene. "The person that touches that car, he's the ground," said Vasbinder. "You have to jump away from the vehicle and shuffle your feet, but even that's risky." Lt. Garey Borgan said it looked like a fireworks show. Thanks to their angel Johnny, Pastor Boston, and his family were only treated for minor cuts and burns. Boston says of the incident, "I don't think angels come to us with wings and white robes shining lights. I think they come as help, and that's what I had that day."
The main message angels often share is, "You are not alone." In stories of angelic interventions, they seem to want us to know that help is always here if we just remember to pray and ask for their intercession. Because we live here under the grace of free will, we must remember to call on our angelic helpers when we feel scared, lost, alone, or in danger. This gives them cosmic permission to intercede and offer aid. Last year, Sue was walking to her car late at night after her office Christmas party. The air was crisp and cold outside, but she felt warm inside her coat and cheered by the staff celebrations. As she turned the corner to head to the parking garage, a man appeared out of nowhere and began following her. Sue walked faster and began praying to her angels, asking for their help. As the man's step quickened behind her, she held onto the keys in her coat pocket, wondering if she should keep walking until she saw people or head into the dark cavern of the near-empty parking garage. Then another man appeared out of nowhere on the other side of the street. He held up a hand waving and said, "There you are!" and hurried over to Sue. She said she felt instant relief upon seeing this stranger. He crossed the street and whispered to her, "You're safe now. I'll just see you to your car." Sue said she nodded, somehow unable to find her voice. She peered over her shoulder and saw the hulking man behind her turn to head in the opposite direction.
Her kind rescuer walked her to her car in the parking garage. By the time Sue was safely inside and clicking her seat belt in, she put the window down to thank the man, but he was gone. She drove around the parking garage looking for him to offer her thanks, but she never did find him. Sue believes he was an angel sent to help her.
Lorna Byrne, author of Angels in My Hair, has always seen angels. She says our guardian angel is always with us, referring to them as the "gatekeepers to our soul." She says, "Every single human being has a guardian angel. I have never seen any person without a guardian angel. Your guardian angel never ever stops communicating with you, and they never give up on us." As you celebrate the love and joy of this season, consider taking a moment to thank your guardian angel and never, ever stop asking them for their celestial help and intervention.