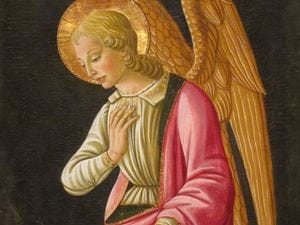 Public Domain
What are angels and how do they impact the Christian life? The Bible has a lot of things to say about them, and knowing who they are and what role they play in God's plans can help us live our Christian lives to the fullest. Here are your top questions about angels, answered.
What is the role of angels?
The Greek and Hebrew word for angel translates to "messenger", which is exactly what angels are. They are messengers of God, and serve Him like we do. Angels are elevated spiritual beings that carry out God's Will, as seen in many passages throughout the Bible. Angels are not to be worshipped as we worship God, however they do watch over us and protect us when God commands. They do so without us even seeing them most times, working more like spies. Hebrews 13:2 says "Do not forget to show hospitality to strangers, for by so doing some people have shown hospitality to angels without knowing it."
God created them with an intended purpose in mind just as He created each one of us with a purpose. In the Bible, there are three types of angels mentioned: cherubim (Genesis 3:24), seraphim (Isaiah 6:2), and hosts, which are referred to whenever the Bible says "the Lord God of hosts." They each are granted a specific job. Within these types, there is also a hierarchy with the archangel, Michael, having the most authority. Each angel has their own job description and carries out God's will by communicating His messages, both by what they say and what they do (Psalm 103:20-21).
Do we turn into angels when we die?
It is popular to say when someone passes that "Heaven has gained another angel", but in reality that's not true. We do not become angels when we enter heaven, because angels were created separately from mankind. In the Bible, it says in Genesis 1:26 that Adam was created in God's image. However the Bible doesn't say anywhere that angels were created the same way, despite sometimes taking human form to deliver God's messages.
In addition, the Bible does not say that angels are redeemed in Christ as humans are. Christ died on the cross for the sins of humanity, and not for angels. In 1 Peter 1:12 it shares that angels actually long to understand salvation because it's not something they have experienced themselves. Salvation makes them rejoice (Luke 15:10) but it separates them from us. We do not eventually evolve into an angel entity.
Will an angel take us to heaven?
While we won't turn into angels when we die, it is believed that an angel will escort us safely into heaven. There is a parable in Luke 16:19-31 that tells the story of a rich man who lived only for himself and a poor beggar. The rich man ignored God, and when he died he was separated from God forever and never given another chance at redemption. The poor man, though, had faith in God despite his situation. Then, "when the poor man died, the angels accompanied him safely into God's presence."
In Hebrews 1:14 it says "Are not all angels ministering spirits sent to serve those who will inherit salvation?" Angels are here to help us, and in the Bible we are taught they are always with us to safeguard us from Satan's attacks. We surly can then also trust them to bring us to heaven when the time comes.
Can angels fall away from God?
Would you believe that Satan was once an angel named Lucifer? Angels have free will just as humans do. Lucifer was jealous of God and wanted to take His place, and make the rest of the angels serve him instead. The Lord banished Lucifer from heaven and changed his name to Satan, which means "adversary" (Isaiah 14:12-21). During this, Satan managed to get one-third of the angels to join his rebellion (Revelation 12:4). They, too, were cast out of heaven, becoming fallen angels, also known as demons. The Bible presents no opportunities for these fallen angels to repent and be forgiven as God forgives us. As mentioned before, Christ shed His blood for our sins and our sins only. He did not do so in order to save the fallen angels.
Do I have a guardian angel?
The idea of a guardian angel is popular in our culture, even outside of Christian circles. Many non-spiritual people believe they have a guardian angel and cite that one rescued them from a near-death experience. However, there is still some debate over if each person gets assigned a guardian angel at birth. In Matthew 18:10 Jesus said, "See that you do not despise one of these little ones. For I tell you that in heaven their angels always see the face of my Father who is in heaven." In this passage, we learn that angels are on standby for every Christian on earth. It is not completely specified, though, if "their angels" refers to a specific angel assigned to each person or not. Another text (Acts 12) points in the direction that it might be true, but no one is completely sure.
There have been times in the Bible when angels have come to assist one of God's chosen. After Lazarus died, angels carried him to Abraham, and Elisha and his servant were surrounded by many angels. In Psalms it says that all the angels rally for the protection of one saint. While we cannot be one hundred percent sure each believer has a guardian angel, we know that God's angels care about us and can intervene in our lives when God calls them to.
Angels are involved in the lives of Christians and we have angelic activity around us every day, even if we don't see it. Angels are at work in our lives, protecting us, guiding us, and sometimes even speaking to us. They are messengers of God and He will use them in times we need it the most.