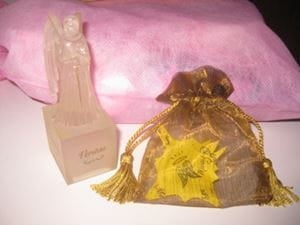 You will need:
Large organza bag pouch preferably in a prosperity color (red, gold, or green)
Star Cookie Cutter or Star Stencil
White or Color Card Stock
Pen/Marker
Colored Pencils/Crayons
Angel Statue
Confetti
The angels want to celebrate the good times with you and by asking your intentions and prayers you can do just that!
First thing is you will want to make on a paper a list of things you want to bring in for new year... A better job? More loving people in your life? Healing for another? Strength to deal with adversity? More support? Write down what you need.
Next, get out your card stock and trace the shape of a star from the stencil, cookie cutter or draw freehand.
Then, you will cut out the stars. On the front make angel wings with a halo on top. Write your wish on the back.
Put the stars one by one in the pouch and in your hand grab a handful of confetti. Say, "With these wishes angels please give them wings, let me soar and bring them in, give me guidance to make me win, and let them come flying in. Amen."
Now put the confetti in the bag, and seal it. Put your pouch on your altar or rap it in a cloth and put it somewhere that is special to you.
The purpose of your angel statue is to represent great things for the year, extra lucky blessings, and the strength, love, protection, and peace of the angels always being with you. Put this angel on your altar or another place to anchor that power in.