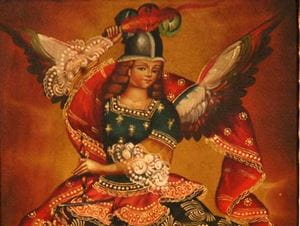 Sport an angel shirt or another fashion
to bring angels in. This might be wearing
an angel pin, angel wing earrings, necklace or shirt that has
angel wings. All of this will magnetize the angel
realms and send a clear message of just what is
you are walking as.
Wear some bling. This will give off a halo
effect and make you sparkle. It is also a
physical representation of the spark
within you. You can do this through accessorizing
shimmering lip gloss, glitterly nail polish, shoes, a silver watch or
even carrying a mirror to reflect that inner sparkle.
Get a disco ball to bring in different color lights.
You can also use colored battery lights for this
or lanterns. This will bring in a spectrum of
rays very much like angels. You will get quite
a display!
Make sure to go out in the sun...talk about
shining rays!