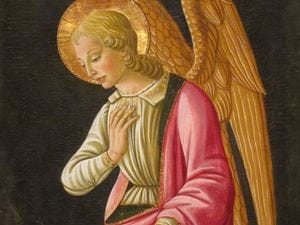 Public Domain
God blessed the world with His angels so that they could help each of His children. Angels are actively involved in the lives of God's people, and He gave them specific functions to help in people's time of need. This can be seen many times in the bible, like Pslam 34:7 which says "The angel of the Lord encamps around those who fear him and he delivers them" and again in Hebrews 1:14, "Are not all angels ministering spirits sent to serve those who will inherit salvation?"
It's even possible you have already met an angel in your life without even realizing it. The angels are very much around today, and are more active than many people would assume. The purpose of angels is to be in service to God by being His messengers. The Lord loved us all so much that He sent down His angels to help guide us.
Angels can help you accomplish a wide range of goals. No matter how small the problem is or how insignificant it may seem to you, your angels will make no judgements at your request for help. You can call on your angels for help with almost anything, and you never need to feel guilty about using their services.
These request can range from simple tasks of helping you to feel loved, protected and comforted to more complex requests of healing and attracting positive life circumstances. There is essentially no limit of what angels can do! For example angels provided comfort and reassurance to Paul in the bible, when he was on his way to Rome to face trial but got caught in a violent sea storm.
Specific angels can help with specific requests. Archangel Michael is a great one to call upon if you're in fear and in need of some protection. Next time you are walking in the dark, ask Archangel Michael to put a bubble of angelic protection around you. He can also help protect you from evil people, including toxic relationships. Archangel Raphael is another well-known angel, who is great to call upon to heal yourself or others. He might not only help you get well, but often can show you how your health problems were triggered.
There are a lot of common requests that angels get. This includes finding lost objects, letting go of the past, smooth travel plans, the well-being of your children and pets, financial problems, romantic relationships, depression and anxiety, protection from negative energy and losing weight. No matter what you desire, an angel will come by to answer your prayer.
Sometimes, you might not get the answer you were looking for. There are reasons why angels may choose to not give you specifically what you asked for. For example, the angels may have something better in store for you or are waiting until the divine timing lines up. In addition, if your prayers are not in harmony with the greater good or destiny of the world then angels won't be able to help you. Note that they are always listening, regardless of their ability to make it happen.
The only condition in order to gain help from angels is that you must first ask the angels to come into your life and help you. The angels will not make themselves known and heard until you ask them to do so, because it is the rule of free will. Angels will not intervene in your life unless you believe that they can come in and give you aid.
You have to be very specific in asking an angel for help and do so in a loving, open, heart-felt way. Make sure you have an honest intention to want to get to know the angels helping you and feel their presence. Only then are you able to receive the benefits of their guidance. One easy way to start is by praying to your angels.
Once you have begun to ask for their help, you will begin to see your angels in various ways which might include dreams or orbs of colored lights. Angels might appear to you in ways that you would normally brush off. Angels can connect to you through sound (buzzing in your ear), smell (fragrances you have no source for) and even taste (unexpected sweetness in your mouth). Be open to these signs and don't be so quick to dismiss them.
If you are having trouble connecting with your angel, there are a few steps you can take to begin hearing from them. First, try out meditation and prayer. This gives your mind the opportunity to relax and quiet itself, so you can be more receptive of angelic guidance. In addition, you can journal or write letters to your angels. Write down your desires, feelings, and requests for help. Read these out loud and your angels will hear you. Lighting candles and incense is also a common practice for people looking to speak with their angels. Through these techniques, relationships with your angels will begin to develop and you will become more in tune with their presence.
Angels are messengers sent to us by God to help us in all aspects of our life. There is nothing that you can't ask your angels help with. While there are certain circumstances where angels might not be able to answer your requests, the angels are always with you and are constantly looking for ways to help you. All you have to do is ask.