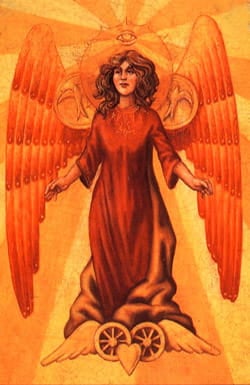 The Angel of the Miracle of Love
I am brought alive by the miracle of love.
This Seraphim helps us open ourselves to receiving the love we desire and cherish the love we have in our lives. This angel aslo helps us acknowledge the fact that all love flows from the Source.
Excerpted from "The Angel Oracle" published in the United States by St. Martin's Press, NYC. Text copyright © 
Ambika Wauters 
1995. Card illustrations copyright © Warren Maddill / MEIKLEJOHN 1995