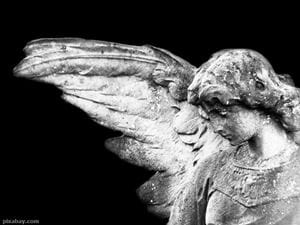 Shutterstock.com
Angel guardians are often associated with the ideas of protection, comfort, and security—the elements of hope that keep us going. Many believers also feel that these angel guardians resonate with certain departed loved ones, carrying their positive emotional messages to the living.
Next time you're talking to your special someone upstairs, recite these angel guardian prayers to help yourself feel more in touch with your loved ones, and with your faith in general.
Prayer to All Angels via www.catholic.org:
All you holy angels and archangels,
thrones and dominations,
principalities and powers,
the virtues of Heaven,
cherubim and seraphim,
praise the Lord forever.
Amen.
Daily Prayer to Guardian Angel via www.marquette.edu:
Angel of God
My guardian dear
To Whom His love
Commits me here
Ever this day
Be at my side
To light and guard
To rule and guide. Amen.
Prayers to the Guardian Angel via www.ocf.org:
O angel of God, my holy guardian, given to me from heaven, enlighten me this day, and save me from all evil. Instruct me in doing good deeds, and set me on the path of salvation. Amen.
O angel of Christ, holy guardian and protector of my soul and body, forgive me everything wherein I have offended you every day of my life, and protect me from all influence and temptation of the Evil One. May I never again anger God by my sins. Pray for me to the Lord, that He may make me worthy of the grace of the All-Holy Trinity, and of the blessed Mother of God, and of all he saints. Amen.
Prayer of Thy Healing Angels That is carried from God by Michael, thy Archangel via www.lornabyrne.com
Pour out, Thy Healing Angels,
Thy Heavenly Host upon me,
And upon those that I love,
Let me feel the beam of Thy
Healing Angels upon me,
The light of Your Healing Hands.
I will let Thy Healing begin,
Whatever way God grants it, Amen.
Prayer of Intercession to the Holy Guardian Angel via www.orthodoxchurchquotes.com:
O Angel of Christ, my holy Guardian and Protector of my soul and body, forgive me all my sins of today. Deliver me from all the wiles of the enemy, that I may not anger my God by any sin. Pray for me, sinful and unworthy servant, that thou mayest present me worthy of the kindness and mercy of the All-holy Trinity and the Mother of my Lord Jesus Christ, and of all the Saints. Amen.
Angel guardian prayers are not just words–they're glimmers of hope that provide comfort and a promise for a better tomorrow. The problems that we all encounter on a day-to-day basis can cause frustration and an internal decline. However, prayers to a angel guardian can be the light at the end of the tunnel that is thoroughly needed.
Next time you're feeling lost or lonely, turn to these prayers and you'll find an unexplainable connection with your angel guardian and faith.