What do angels look like? Why were they created? And what do angels do? Humans have always held a fascination for angels and angelic beings. For centuries artists have tried to capture images of angels on canvas, and church leadership has tried to share their magic with their congregations. Even the media has depicted angels in movies, TV, and more.
What you think you know about angels, and what is written about them in the Bible, may surprise you. Angels are mentioned 273 times in the Bible, yet so many do not reference what the Bible has to say when talking about them. This has spread myths and misconceptions about angles for decades. Here are common myths people believe about heavenly beings.
---
"Only Christians have guardian angels."

Pixabay.com
No matter if you are a Christian or not, you are assigned a guardian angel at birth. God loves each and every single one of His children, and wants them to be safe. So God chose to send down His angels and assign one to each of us so that we would have constant protection. The angels are assigned to protect, encourage and guide us. Guardian angels are present in scripture as well. "For He will command His angels concerning you to guard you in all your ways," reads Psalm 91:11. Again there is more validation in Psalms 34:6-7 which reads "This poor man called, and the Lord heard him; He saved him out of all his troubles. The angel of the Lord encamps around those who fear Him, and He delivers them."
---
---
"Angels were once humans." 

Pixabay.com
It is popular among Christians to say "They are now one of God's angels" when talking about someone who has died and passed on. However, angels were created before humans were, and we do not become angels when we go to heaven. While there is some debate about when exactly angels were created, we know for sure that angels came before humans and most likely before the earth as well. Angels witnessed the creation of earth, as is seen in Job 38:4,7. It says: "Where were you when I laid the foundation of the earth? Tell Me, if you have understanding...when the morning stars sang together, and all the sons of God shouted for joy?" Furthermore, in Genesis 2:1, the Bible tells us God created these heavenly beings before the seventh day of creation. It says: "Thus the heavens and the earth were completed, and all their hosts."
---
"Angels are all-powerful." 

Pixabay.com
Make no mistake, angels are incredibly powerful. In Genesis 19:12-16, angels are used by God to destroy Sodom and Gomorrah. In 2 Kings 19:35, one angel is empowered to kill 185,000 Assyrians. According to Matthew 28:2, an angel moved the stone from Christ's tomb. In Acts 12, an angel entered a locked prison and released Peter. Lastly, In Acts 12:23, we read that an angel killed Herod in a most gruesome way.
However, angels are not doing this on their own. Only God has unlimited ability to do anything. All angelic power is subject to God's purpose (Palms 103:20; 2 Peter 2:11) and they must report to Him. Jesus is King, and even the angels bow down to Him. In 1 Peter 3:22 it says, "Now Christ has gone to heaven. He is seated in the place of honor next to God, and all the angels and authorities and powers accept His authority."
---
---
"Christians should worship angels."

Shutterstock.com
Many non-Christians believe in angels and worship their power. Christians more and more frequently are following this similar behavior. However, we are implicitly instructed not to worship anything but the Lord. Luke 4:8 says, "...you shall worship the Lord your God and serve Him only." This is echoed in Exodus 20:4-5 and Matthew 4:10. God is the only one who can solve our problems and offer us forgiveness.
Romans 1:18-19 and Colossians 2:18 warns us about glorifying angels, "Let no one keep defrauding you of your prize by delighting in self-abasement and the worship of the angels." Lastly, in the Book of Revelation, the apostle John is so overwhelmed at his vision of the angel that he bows down and the angel responded, "Don't do that! I am a fellow servant with you and with your brothers and sisters who hold to the testimony of Jesus. Worship God! For it is the Spirit of prophecy who bears testimony to Jesus" (Revelation 19:10).
---
"We can pray to angels." 
Pixabay.com
Given angels can be our protectors, many Christians pray to them in hopes of getting extra protection. However, prayer is a form of worship to God. As we already have learned, God is the only one we should idolize. When we pray, we are asking God to forgive us our sins, to guide us, to help others, and the like. To pray to angels is to assume they have the same ability as God, but this ability belongs to God the Creator and not the creature. They are not going to be able to give us salvation like Jesus did. They are not to be prayed to for help, rather we get to join them in their worship of God once we have passed and gone to heaven. Revelations 9:10 says, "And one day we will join their chorus in eternity!"
---
---
"Angels only have one job, to be messengers." 

shutterstock.com
According to scripture, there are thousands upon thousands of angels. Psalm 68:17 tells us "The chariots of God are tens of thousands and thousands," and Hebrews 12:22 asserts "But you have come to Mount Zion, to the heavenly Jerusalem, the city of the living God. You have come to thousands upon thousands of angels in joyful assembly." Each of these angels can be given different purpose from God. The angelic realm has different kinds of angels: Seraphin, Cherubim, Archangels and Fallen Angels. Seraphim angels, for example, are closest to the throne of God, (Isaiah 6:1-7) and Cherubim are angels that guard sacred things (Genesis 3:24). Fallen angels are those like the devil, who turned their back on God.
Many of the angels we know by name were messengers. They appeared to men and women of God to share a specific message from Him. But being messengers is not their only purpose; they are also the mighty and powerful warriors of God. Some fight wars, others protect, and some bring about God's judgment. In addition, the Bible says that one of the most important roles for angels is praising and glorifying God. No matter what purpose an angel is assigned, they are given that assignment by God, and they all carry out His plans and purposes.
---
"Christians know what angels look like."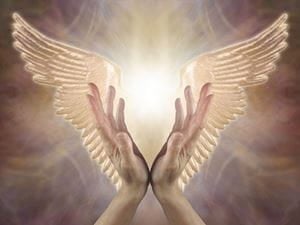 Shutterstock.com
Contrary to popular belief, we do not know exactly what angels will look like. We might see angels depicted as adorable cherub babies in photos, but the truth is that the Bible doesn't tell us exactly what angels look like. In fact, they often are invisible to us, because they are spiritual beings who seldom take on any physical appearance. They do not have material bodies and they are neither male or female. At times though, they do become visible to us in the form of a human but with wings (Isaiah 6:1-3, Luke 2:9). Some also have even become visible to us without wings, and it was only until later that they were recognized as angels (Genesis 19). However even though they can manifest themselves as humans in appearance, this is not their normal form. Since angels do not have physical bodies (Hebrews 1:14), they cannot be hurt in the sense of suffering physical harm in the same way a human being with a body could be hurt.
---
---
The Bible is filled with evidence that angels protect, guide, encourage and strengthen us. But, there are many misconceptions and myths that surround angels. By reading the Bible, we can see the true purpose of God's messengers and how they can serve in our lives.