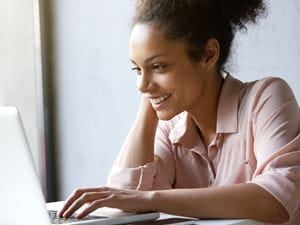 Shutterstock.com
If you've been considering continuing your higher education, there's no better time to start than the new year. Whether you want to switch to an entirely new career or just want to increase your knowledge and advance within your current field, pursuing a degree is one of the best ways to start.
In 2021, obtaining a degree has never been more accessible, with numerous online programs tailor-made to your needs. These courses are made for students of all backgrounds, and you can find certificate paths, associate and bachelor's degrees, and even MBA options entirely online.
With a large number of schools available, it can be challenging to pick the program that's best for you. Below, we've listed some tips to help guide you as you begin your online college journey. With these helpful considerations, you can find the right university for your goals and make 2021 the year you start realizing your higher education dreams!
Consider Your Background
Your educational background will play a significant factor in finding the right school for you. Many online colleges and universities offer open enrollment programs perfect for people with limited to no post-secondary education. If your first college attempt came too soon in life, these schools might be right for you. If you do have some college credits, you'll want to check with your online school's admission department about credit transfers. Most programs will allow credit transfers as long as a specific grade requirement is met - this makes completing your degree from home much faster!
Obtaining a graduate degree is a great way to advance your current career and make more money along the way!
Verify Accreditation
Perhaps the most critical step in choosing the right online program is to verify that it's accredited. Accreditation is usually done regionally, and your school will have its accreditor listed somewhere on their website. Verifying your school is accredited will ensure the program selected meets educational quality standards, and your degree has some value beyond the cost of tuition.
Set Solid Goals
It can be tough to follow through on your plans without defining some concrete goals in advance. Make a plan, laying out in detail what you want to accomplish and how long you want it to take. Many online programs offer accelerated classes to help complete degree paths in record time. Semester-long courses can be completed in as little as six short weeks in some cases, making a four-year degree possible in much less time.
Choosing the Right Program
Setting goals will help, but you'll need to consider every aspect of the program before making a final decision. Study class requirements closely, and keep any credit transfer possibilities in the back of your mind. Every school handles transfers differently, so you can often find creative ways to lower the number of credits needed to receive a degree. Getting remaining credits as low as possible will make acquiring your degree less expensive and less time-consuming.
If you're starting fresh with no transfer credits, class requirements are equally as important. Every school requires specific prerequisites such as English and Math, but many programs will allow you to test out of these courses. If you don't want to spend valuable time and money on subjects not specific to your trade, a program with test-out options might be right for you.
Determine All Costs
While many online universities are more affordable than their in-person counterparts, costs still play a significant role. Be sure to examine all costs associated with attending the school of your choosing. This includes tuition, books, administrative and course fees, and even class materials. These "hidden" costs can add up quickly, so make sure you know what you're liable for each semester and when.
With these considerations, you should be on the right track to choosing the best online education option for you.