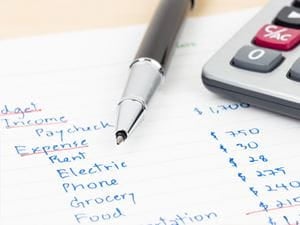 Shutterstock.com
Deciding to enroll in an online degree program is a big step. Whether you're returning to school mid-career or starting college for the first time, online programs can offer the flexibility and specialized training that's right for many students. The cost of a college education can be a bit overwhelming, though, so make seeking out financial aid and other funding a top priority as you begin your journey towards an online degree.
Read ahead for the 6 most important components to securing financial aid as an online student.
Federal Financial Aid – FAFSA
Whether you're enrolling in a traditional or online degree program, the application for federal financial aid (and the one that most states use, as well) is through the same portal – the FAFSA. If you're new to the application process, you'll have to create an account then begin to fill in your information. Even if you don't know which school/degree program you'll enroll in yet, you can still complete this application. Considering online programs in several schools across the country? No problem; the FAFSA is your one-stop federal aid application. Log back into your account later to fill in specific information when you've selected a school.
Start Early and Gather Materials
The number one thing to do when applying for financial aid? Start early! Many awards are given on a first-come, first-served basis after their initial deadline, so if your application arrives after that date, you may be out of luck. Check with your prospective school(s) to see when their "best consideration" date lands for the upcoming school year. Allow yourself plenty of time to complete the application, as well. Gathering materials ahead of time will streamline your process; you'll need your most recent tax return (and your parents' if they're still providing financial support), information about your prospective school(s) and program(s), and details about your living and employment plans during the school year.
Check Requirements and Eligibility
Whether or not you secure funding can play a large role in your decision to get an online degree. However, be aware that some financial aid has certain requirements and limitations that could be difficult to meet as an online student. The key is to accurately complete your application so that you can access the aid that's right for you. Look out for the following requirements and eligibility considerations as you receive aid offers:
• Enrolling in a minimum number of courses/credit hours each year
• Maintaining a minimum grade-point average (GPA)
• Completing courses in a particular sequence
• Enrolling in an accredited degree program
• Engaging in extracurriculars such as volunteering
On the flip side, there are grants available specifically for students in online programs, those switching to an in-demand career, or pursuing a Bachelor's/Master's degree for the first time (even if you have an Associate's). It's important to do your research and make sure you not only receive funding, but that you can handle the requirements that go along with it.
Make Contact With Your School's Financial Aid Office
This might sound obvious, but you'd be surprised how many students don't know that a financial aid office exists at their school! If you're enrolling in an online degree, the financial aid office can make sure that you're satisfying any requirements necessary to receive your aid – and they can even point you in the direction of aid opportunities you may have overlooked. Many schools maintain lists of private scholarships available to their students, so ask your financial aid office for the info! If you can't find a direct email/phone for financial aid at your school, contact the Registration Office and ask for their help.
Seek Out Other Scholarships
Federal and state financial aid aren't the only ways to secure funding for your education. Your school and degree program may offer scholarships specifically for students in your demographic categories. Similarly, certain degree programs may have the opportunity to get paid internships or qualify for tuition discounts, so make sure to check with your prospective schools to see what's available. Many businesses and non-profits also offer scholarships for students in a variety of degree programs and from various backgrounds. Check out Fastweb for a comprehensive list of available scholarships; you can even filter for opportunities reserved for online degrees and returning students!
Officially Accept Your Awards
The final step in getting financial aid is to officially accept your awards. Often, students get a notice that they've received aid from various sources, but they don't complete any final paperwork or online verification to claim that money. Different aid will have different requirements, so read the fine print and contact your school's financial aid office if you have any doubts about whether the offers have been accepted. Securing financial aid as an online student can feel overwhelming, but remember that there are many resources available to help you along the way!