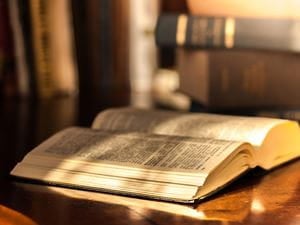 Shutterstock.com
There are many reasons why you should consider studying the Bible at a Christian college or university. One common theme between all Christian universities is their commitment to building up the Kingdom of God. No matter where the school is located, or what curriculum the university offers, what makes Christian schools distinct is biblical focus. While Christians can navigate outside of a Christian university as followers of Christ, sometimes the faith influence is less pervasive. Receiving a biblically rooted Christian education can be life-changing as you are impacting the world for Christ. There are also great benefits to studying the Bible at a college or university that offers online courses. Online courses offer flexibility, affordable tuition and a variety of academic opportunities you may not have considered. If you are looking for an online education with a solid biblical foundation, here are the seven best colleges and universities for studying the Bible.
A university's mission sets the foundation for what type of education you will receive. Colorado Christian University's mission is to offer a Christ-centered higher education, transforming students to impact the world with grace and truth. A major in biblical studies emphasizes the understanding of scripture while also equipping students for Christian ministry. One of the great things about an online degree from CCU is that you will be able to cultivate knowledge and the love of God in a Christ-centered community of learners and scholars. The university is committed to spiritual formation, exemplary academics, and engagement throughout the world. With an online degree from CCU, you will think creatively and critically, embody both the character and compassion of Jesus Christ and be better prepared to pursue God's calling for your life.
If you choose biblical studies at Regent University, you will be uniquely positioned to develop and grow personally, spiritually, and intellectually while also seeking to follow God's call in your life. RU offers an extensive range of classes in biblical studies, theology, and practical ministry that can be applied in thought and practice. Two great reasons to pursue an online degree from RU is that it is a widely accredited and widely respected Christian University. The university is devoted to an evangelical interpretation and application to the Christian faith. RU's big focus is building leaders who will make a positive difference in their communities, families, careers, and around the world. The university places a high focus on each student's social, intellectual, and spiritual development to be better disciples of Christ. RU is ranked the number 1 best online bachelor's programs in Virginia by U.S. News & World Report for the ninth year in a row, which speaks volumes about the kind of education you will receive from their online programs.
Grand Canyon University is a Christian university with a biblically rooted mission focused on global outreach. The university offers students the opportunity to gain a deeper understanding of scripture through biblical studies. This is a wonderful opportunity for future Christian leaders who want to know Christ better and undergo an in-depth exploration of the Bible. Students at GCU in locations worldwide can deliver the hopeful message of Jesus Christ and share how God is working in their lives. What is great about an online degree from GCU is the level of flexibility. Many working professionals can gain a quality education while still navigating their everyday lives. For many students, one of the primary benefits of online education is scheduling flexibility. You will have that with GCU. Another great thing about an education with GCU is that it is affordable. You can increase your employability, while also expanding your career opportunities with an education from GCU.
Liberty University is a vibrant school with a strong mission to provide a learning experience that instills in students a passion for academic, spiritual and professional excellence due to the central mission, "To develop Christ-centered men and women with the values, knowledge and skills essential to impact the world" Students who want to focus on studying and communicating the Bible's truth in its original context will thrive in the biblical studies program at LU. One of the wonderful things about an online degree from Liberty University is that the undergraduate programs accommodate adults with demanding family and work schedules. The classes are interactive and will provide you with a well-rounded education. The faculty mentors are dedicated and ensure a personalized academic experience and enhanced opportunities so that every student can succeed.
If you are an individual who wants to make a real difference, who is passionate about serving others and wants to be a beacon of light in a world of darkness, Mount Vernon Nazarene University may be the university for you. Biblical study majors at MVNU gain a deeper knowledge and understanding of the Christian faith, which will prepare them for broader Christian service. There is no better foundation we can set for ourselves. We all know that traditional bachelor's and graduate programs are not easy to navigate with a full-time job and other day-to-day obligations. An MVNU education works around the needs of working adults. One of the things that stands out about MVNU is the cost. It is ranked in the top 5 percent best colleges for the money by College Factual. With a commitment to make the world brighter, what more can you ask for?
Trevecca Nazarene University is committed to helping students grow socially, intellectually, emotionally, and spiritually. If you choose an education with TNU, you can expect it to be well-rounded. Those who choose biblical studies at TNU will be able to explore the foundational, transformative, and timeless truths of scripture in a contemporary context. You can receive a liberal arts education while also discovering God's calling for your life through online programs. Faith is a big component of a TNU education, as the university believes that faith should be at the center of all things. This is one of the reasons students are encouraged to deepen their relationships with Christ and with others. Students are also encouraged to serve through various service projects and ministries that can be accessed even through an online degree.
Bryan College emphasizes placing Christ above all. The university understands that a biblical worldview is imperative to effective ministry in the world we live in today.
Biblical studies at BC will prepare you to help people experience the life-transforming love of God. This is something the world desperately needs today. One of the highlights of an online degree with
Bryan College
is that it is really tailored for you. BC understands the unique challenges when trying to complete an online degree, so offer several online degree programs to fit your needs. Another thing that stands out is the discount on tuition. If you complete your bachelor's degree at
Bryan College
, you can earn your master's degree with a 50 percent discount. You can also earn college credit for your prior life experience, along with some of the most affordable tuition.
We study God's Word to know Jesus better and prepare ourselves for disciple-making ministry and service. When we understand and apply God's Word, we see the Holy Spirit at work in the means of transforming us into better Christian stewards. If you are ready to deepen your relationship with the Bible, and share that knowledge with others, consider attending a college or university with a solid biblical focus.