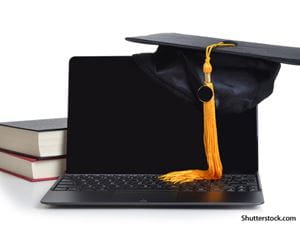 Making a big decision like changing careers or finishing your college degree can feel overwhelming, especially with all of the school options available. If you're considering a return to school, an online degree program may be the best fit for you. Consider the many benefits that this format offers – convenience, flexibility, access to nationwide programs, and people. There's a reason that online universities are more prevalent than ever, and traditional colleges are joining the movement by offering more and more online options every semester.
To see whether an online option is right for you, read ahead for five of the benefits you'll enjoy with enrollment in your online degree program.
Integrate with a Busy Schedule
One of the biggest reasons that students choose an online degree program is convenience. Often, adults going back to school have busy lives – full-time jobs, family commitments, etc. It's difficult, if not impossible, to fit a 10:00 am class into this schedule. With online programs, most courses are asynchronous, meaning they don't include live interaction; instead, course work is completed on your own time by specific due dates. If you plan to work on class material in the evenings or over a lunch break, online programs will offer you that flexibility without delaying your degree completion.
Work from Home…or Anywhere!
Many traditional college campuses are not made for commuters; the parking is limited, and it's not convenient to pop onto campus for one class at a time. Online programs, on the other hand, allow you to complete your work from home, the coffee shop, the park – you name it! Being able to log on and complete 30 minutes of work from home means that you can stay on top of your class material while also taking care of your comfort, health, and self-care needs – you don't have to budget 3 hours to drive to and from campus!
Enroll in Specialized Programs
The degree program you choose is often limited by the colleges and universities in your vicinity, but with online programs, the sky's the limit! If you're considering a specialized program that won't be offered by most schools, an online degree is the way to go. Spend time browsing course and degree offerings at a variety of online universities to see what unique programs pique your interest. With online programs, you can also select a school where the faculty matches your career goals and research interests. Because all of the curricula are virtual, you'll benefit from lots of direct communication with your instructors; developing this relationship with faculty can help you move forward with your new skills when your degree program is complete, as well!
Qualify for Tailored Scholarships
Financial aid and scholarships can be crucial to your ability to go back to school and seek an online degree. Many schools offer scholarships specifically for students in their online degree programs and/or students who are returning to school mid-career. Independent organizations and corporations also offer scholarships, and many of these opportunities are geared towards students in online degree programs. Because online degrees are becoming more popular, federal financial aid is usually available for all of these programs as well.
Meet Peers from Diverse Backgrounds
Taking courses online doesn't mean you'll be isolated. Many online degree programs have components that make it easy for students to work together on class projects as well as connect professionally outside the classroom. Because the program is online, students will probably come from a much more diverse array of locations, previous careers, and life stages than a traditional college campus experience. As you embark on a new or more specialized career post-degree, this cohort of peers can offer support and guidance, as well as job recommendations and career advice for years to come.
As you consider a return to school, look into the online degree offerings that fit with your goals; and remember that these added benefits from an online program can make it an easy choice!