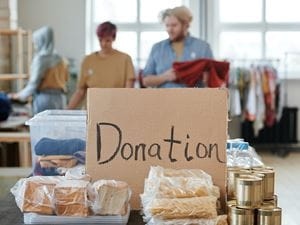 Julia M Cameron/Pexels.com
Some people are constantly packing and unpacking. They're always traveling for pleasure or work and living out of suitcases. Everything they need fits in one bag that weighs 35 pounds or less. However, you might notice that 25 percent of their clothes don't leave the bag.
Once they pull these items out, they realize that most of them fit in the "in case" category. You know, a pretty dress in case you go to a fancy restaurant or another item in case there's a hot/cold day. As they go through their "in case" things and start deciding what they're taking on their next trip, they start wondering why they carried these "in case" items around with them in the first place.
They also start thinking about how many "in case" items they own and how their life would be simpler if they gave them away instead of holding on to them. As they go through these things, they find soccer shoes and pads "in case" their husband takes up indoor soccer again. There's a guitar collecting dust "in case" they decide to start playing again. Then there are several soaps and shampoos from hotels "in case" they need them for a trip.
If they're honest, all these "in case" items are symptoms of an excessive lifestyle. While others have less than they can survive on, most people have more than what they need. There's no quick fix to poverty, but maybe there are better ways to use the 25 percent that would go toward helping those in need. Here are some ways to be generous when you have too much stuff.
Consider donating your formal wear.
Most people are good at donating clothes regularly. Still, most people probably have plenty of "in case" things they haven't worn in years. For example, there may be evening gowns you can't fit anymore that you've kept in case an opportunity arises for you to wear them again. Let this be the year that you donate or consider donating those dresses. Numerous sites will take your donated formal wear. You can also donate suits and business attire to organizations that give mentoring, clothing, and life skill to help men and women in poverty become more substantial contributors to their communities and families.
Offer your old linens to a local animal shelter.
If you're wondering what to do with your worn-out blankets and towels, consider dropping them off at your local animal shelter. They'll likely use them as bedding for dogs and cats or potentially use them after bath day.
Contribute to a food bank.
Most people don't look hard at the food in their cabinets. When they do, they find stashes of canned food well within the use-by date that have been sitting in the pantry for more than six months. Most of these cans are "in case" foods you don't like eating. The best thing you can do with these food items is bag them up and take them to your local food banks, where they'll be distributed to those in need. It may also be a good decision to stop buying "in case" foods you don't like.
Donate travel-size soaps to homeless shelters.
You might have a bathroom cabinet filled with unused travel-size body washes, shampoos, and even fold-out toothbrushes that airlines pass out on international trips. Instead of throwing out these travel-size items, calling a halfway house or homeless shelter near you may be best to find out if they want these items for their welcome packs. If you take it a step further, you could add these soaps to a basket with other essential items like socks and pass them out to any homeless person you see.
Consider donating old gift cards.
While cleaning out your home, you might find old gift cards that don't have a lot of money on them. Instead of throwing them away, consider donating them to organizations that collect used gift cards. Some groups accumulate gift cards and give them to people or organizations in need. One success story included a family driving to Boston from Alabama for medical treatment being matched with gas cards. A women's shelter that needed undergarments for their residents was paired with unused Victoria's Secret gift cards.
Give away your old cell phones.
You might also find old phones while cleaning out your home. You could give one away to a friend who had a broken phone and couldn't pay for a new one, but you might still have some left. Consider donating those phones to organizations that accept phone donations, whether they're working or not and with or without the accessories. The phones are either recycled safely or refurbished for sale. The money paid to the organization for recycled phones goes to those in need.
Donate your time to those in need.
One of the most effective cures for non-generosity is making space for those who need your help in your life. It's a minor step from knowing someone in need to helping someone in need. One of the simplest ways to achieve this is to volunteer for one meal at your local homeless shelter. Most homeless shelters will accept volunteers and have systems to get you started. Rubbing shoulders with those in need might change your impression of them.
Find someone you believe in.
If you believe that you're easily shaped and motivated by people in your life instead of causes and organizations, use that as motivation. Take note of the people in your life that you admire. Who do they support? What causes and organizations do they believe in? Why are they passionate about helping these causes, and how can you get involved with them?
As you start looking for new homes for your "in case" items, you might find a non-profit that will accept anything from baby clothes to desk supplies and eyeglasses. In most cases, a Google search asking where you can donate these items will lead you in the right direction and introduce you to some charities that need your items. Once you realize that your "in case" things can help someone in need, it'll change how you think about that extra 25 percent you own.