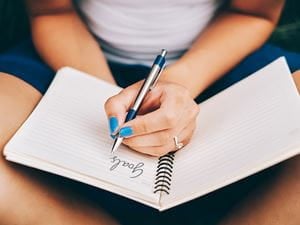 Shutterstock.com
Talking your feelings out is not for everyone. But more people are interested in putting their thoughts down where they can navigate the troubling waters of the past or of the present without shame. Communicating your feelings through writing is not a taboo subject anymore. According to the American Psychological Association, Joshua Smyth, Ph.D., of Syracuse University found writing to be an effective way for people interpret their experiences. "Venting emotions alone--whether through writing or talking--is not enough to relieve stress, and thereby improve health. To tap writing's healing power, people must use it to better understand and learn from their emotions," he explained. Writing helps frame events in our lives and can go down to the very root of the pain, which can help us find inner freedom. Here are 7 reasons writing heals trauma.
It allows you to get real.
Even if you are seeing a therapist, you may still hold back to protect yourself from being judged. Writing allows you to have a platform where you have the liberty to express your soul without restraint or fear. You don't have to pretend to be something that you're not anymore. The writing process will open the mind and the heart to allow healing to start flowing. There is a caveat to this, however. You need to be honest with yourself and embrace your feelings. "Hold yourself accountable to
tell yourself the truth about your behaviors,
your thoughts, your motivations and your actions. If you can't be honest with yourself, you will not be able, to be honest with others," author Dawn Demers wrote.
It makes you deal with the pain.
Trauma that is not dealt with can be a dangerous cycle because it's too painful. "But, because they are painful, we do not process them deeply and and so, we suffer the stress of remembering a painful situation without resolving the incoherence," Psychology Today found. Writing acts as an outlet to life's most challenging obstacles and events that change our lives on a daily basis. Thoughts, feelings and emotions are more fluent when they're put down in writing.
It helps you confront the experience.
When we write about an experience that is painful--we're constructing a personal narrative that creates a pathway towards healing old wounds. If we don't confront this, we will obsess over the event and what we could've done differently. The Foundation for Art and Healing shared that expressive writing could "possibly lead to mental health problems, expressive writing allows us to cognitively confront, process and heal from the pain." Start writing from the heart and express how you're feeling today. The cool thing is that there are no rules and you have the power to construct your thoughts as needed. You can't overcome discomfort unless you face it and brave through the pain.
It helps you discover forgiveness.
Start recording everything that is going on in relation to the trauma and how it has impacted you. Then make a list and start to explore it and make amends. Maybe you need to forgive someone or let an old love go. Maybe you were wronged, treated unfairly or not supported during this time. Our response is to stuff our anger and shut down. Forgiveness will help you avoid disorder, will protect your well-being and "stand against the worst kind of injustice so that it does not defeat you," author Robert Enright shared. Forgive yourself for making mistakes and learn self-acceptance. If this is hard, seek a licensed therapist for guidance and further direction.
It helps clear your head.
Between your emotions and your thoughts, there could be a lot of upheaval going on in your private world. Writing will help you battle this out while keeping negative thoughts and even depression at bay. The pain of bereavement, violence or a sudden diagnosis of a serious illness could also drive you into isolation, which is not helpful. "Expressive writing promotes healing and can help us to better control our emotions, to stop ruminating or obsessing about a traumatic event and instead derive meaning from what happened," author Lynda Monk shared. Clear the clutter out of your head by expressing yourself on paper.
It helps you slow down.
No matter what stage you are in at the moment, writing will help you to slow down and become more mindful. Start catching yourself when you rush through the process. Ask yourself "Why am I rushing for?" Once you slow down, it will help reduce stress and will help you from being controlled by thoughts and emotions. The benefits to this are being able to cope with stress better and help you to become more aware of toxic thoughts, which could be haunting you. The writing process can be used to train the mind and body to embrace a more serene state.
It allows you to find hope again.
Not only can you relive your triumphant moments but you can find hope again by listing your successes every day. By re-reading successes, it will empower and encourage you press forward when bad days come along. "Cultivating hope requires courage to take that first step forward," Life Hack suggested. "Take that first step and then the next. You will soon be on the other side and ready to tackle your next challenge." Today can be a time that you start exploring what you are capable of again. The fact you're brave enough to pursue healing can be a start to a renewed hope and bright future.
Writing can open up a path of deep healing and enlightenment. It's something that you can utilize for the rest of your life. Consider it your companion to help you to weather the storms of life.