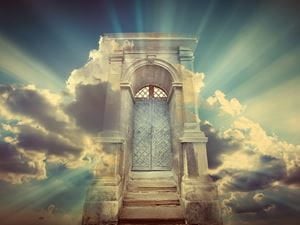 Shutterstock.com
Musical artists from various genres including gospel, pop, rock and alternative have sung or written about heaven. A big reason so many songs have been written and sung about heaven is likely because there is no greater place believers can look forward to. There is more than we can imagine waiting for us in our eternal home. We can learn a great deal about heaven from Scripture. Matthew 5:12 says, "Rejoice and be glad, for your reward is great in heaven…" We know that when we enter His Kingdom, we will find great joy and peace there. Here are six hymns about heaven that will give you hope.
'Soon and Very Soon' by Andrae Crouch
The song by gospel artist Andrae Crouch, is a very popular hymn about heaven. The hymn focuses on the fact that "the King" will come "soon and very soon." A chunk of the lyrics are taken directly from Revelation 21:4 where the Apostle John wrote, "He will wipe away every tear from their eyes, and death shall be no more, neither shall there be mourning, no crying, nor pain anymore, for the former things have passed away." The song talks about the fact that there will be no more crying there. The bridge of the song goes, "Should there be any rivers we must cross, should there be any mountains we must climb, God will supply all the strength that we need. Give us strength till we reach the other side." If this doesn't give you hope, I don't know what will.
'I Can Only Imagine' by Bart Millard
Incredibly, the song was written in mere minutes by MercyMe lead singer, Bart Millard. The lyrics take listeners to the feet of Jesus at the gates of heaven, presenting a question that many have not even thought of – What will it be like the first time we see Jesus' face? Millard's powerful words tug at the hearts of many, "Surrounded by You glory. What will my heart feel? Will I dance for you Jesus or in awe of You be still? Will I stand in your presence or to my knees will I fall? Will I sing hallelujah? Will I be able to speak at all. I can only imagine." The anticipation of the moment is overpowering. Millard was able to put this anticipation into words. The popular song came to the big screen allowing viewers to get a close look at the true story behind the song.
'His Eye is on the Sparrow' by Various Artists
The song has been performed extensively by Gospel artists throughout the years, most notably Ethel Waters and Mahalia Jackson whose recording of the song was honored with Grammy Hall of Fame of Award. "His Eye Is on the Sparrow" is a Gospel hymn written in 1905 by lyricist Civilla D. Martin and composer Charles H. Gabriel. The theme of the song is inspired by the Psalms and Jesus in Matthew's Gospel. The song is the writer's longing "for heaven, heaven and home…when Jesus is my portion." We know God's eye is on the sparrow because Scripture tells us He cares for even the smallest creatures. The psalmist writes, "Even the sparrow finds a home, and the swallow a nest for herself, where she may lay her young, at your altars, O Lord of hosts, my King and my God" (Psalm 84:3). We know that God watches over me and you.
'Angels Among Us' by Alabama
There are always going to be angels among us in some way, whether you can or can't see them. They might be a real angel, they might be a person you encounter, but somehow and in some way, you will know when you find them. Some of the lyrics go, "Oh, I believe there are angels among us, sent down to us from somewhere up above. They come to you and me in our darkest hours to show us how to live, to teach us how to give, to guide us how to love…" Alabama lead singer Randy Owen has said that the band received hundreds of letters from all over the world saying that the song was a blessing. Owen performed the song at the funeral of his close friend Dale Earnhardt, Sr.
One of the biggest reasons we are so fascinated with angels is because we simply desire to know and we also like to believe that someone is always looking out for us who is more capable than we are. God has created guardian angels to take on this role.
'Take My Hand, Precious Lord' by Various Artists
The popular gospel song was written by the Rev. Thomas A. Dorsey, who also adopted the melody. It was Martin Luther King Jr.'s favorite song with him often inviting gospel singer Mahalia Jackson to sing it at civil rights rallies. At his request, she sang it as his funeral in April 1968. Right before his assassination, he requested to play it at a mass he was due to attend that night. Aretha Franklin sang it at Mahalia Jackson's funeral in 1972. The late Elvis Presley also performed the hit gospel song among other gospel artists. The vocalist sings, "I'm tired, I'm weak, I'm lonely…so help me…Through the storm" and "through the night," and "Lead me on to the light." Those who sang the song sung with confidence that after his days on earth were done, they knew, "At the river I stand. Guide my feet, hold my hand," as they enter the Promised Land.
'Angel' by Sarah McLachlan
Everyone knows Sarah McLachlan's iconic song "Angel," if not from her extensive catalog of classic hits, then from the touching commercials where the song is used to stop animal cruelty. While the song isn't directly about heaven, it deals with angels who live in heaven as it is there dwelling place. McLachlan revealed that the song was inspired by Jonathan Melvoin who was the keyboardist of the Smashing Pumpkins who died of a heroine overdoes in 1996. McLachlan said, "the story shook me because though I have never done hard drugs like that, I felt a flood of empathy for him for and that feeling of being lost and lonely and desperately for some kind of release." One of the most memorable sections of the song goes, "In the arms of the angel, fly away from here. From the dark cold hotel room and the endlessness that you fear, you are pulled from the wreckage of your silent reverie. You're in the arms of the angel may you find some comfort here..." While you may not automatically think of this song as a brighten your day anthem, the lyrics will touch you in a special way, providing a sense of comfort and ease.
We know from Scripture that heaven is a real place and also the dwelling place of God. His angels are there, His throne is there and the Jesus Christ is there. These songs remind us of the hope that we have when we enter God's Kingdom.