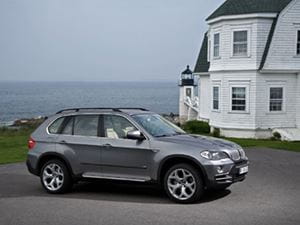 Summer is practically here and that means millions of families around the country are getting ready for road trips. If you've ever tried to travel with children, you know they need space…space for toys, space for snacks, and space to prevent spontaneous fighting in the back seat.

For many families, owning a minivan or SUV with three rows of seating is a necessity. But which ones are best suited for the job?

Since nobody is more in tune with these needs than Mom and Dad, we partnered with Honk to find parents who had recently purchased new vehicles with top safety ratings and three rows of seats.

Here's our list of the Top 10 Best Cars for Big Families, as determined by the families, themselves. You can also go to Honk to see the full Top 50 Cars for Families or to build your own list.

1. Honda Odyssey
The Odyssey has been a top choice for families for many years now, with owners raving about the handsome styling and car-like handling. "Acceleration is quite surprising," boasted one reviewer.
This Honda is tough too, acing frontal and side-impact crash tests from both NHTSA and IIHS. There's a wealth of family-friendly features, including available tri-zone climate control and DVD player. The interior has seats that can slide or fold flat for maximum flexibility in carrying people or bulky cargo.

As one reviewer put it, the Odyssey is, "a little more expensive than the competition, but more than worth the price."

If a minivan is not quite your style, the GMC Acadia is a stylish alternative that doesn't skimp on space or practicality.

Compared to full-size SUVs, the Acadia rides smoother and is lower to the ground so kids can easily climb in and out. GMC's family-friendly vehicle has many thoughtful touches, like a second row seat that's light enough for kids to operate and a low cargo loading height to help with loading strollers and soccer gear.

Power from the Acadia's V6 engine is excellent and fuel economy is respectable for a vehicle of this size. You'll also be pleased with the 5-star ratings for frontal and side-impact crashes.

3. Honda Pilot
Yep – Honda's got another vehicle in the top five. It's big, it's bold, and it's got seating for up to eight people.

Honda decided to target Dads rather than Moms when the Pilot was redesigned in 2009 and the resulting look is more testosterone-infused and industrial than its predecessor. Families love all the utility afforded by the Pilot's strong, boxy shape. "I always have room for stuff/people, yet never feel like I'm driving a huge SUV - just what I wanted," boasted one owner.
Looking for a more luxurious way to transport your family? Acura's MDX crossover vehicle seats seven and features a sophisticated all-wheel drive system that gives the car surprising agility on curvy roads.

Owners rave about the well-appointed interior and abundance of high-tech gadgets. There's an available Blind Spot Information System that can alert you to vehicles in your blind spot and a Collision Mitigation Braking System that can sense an impending collision and then tug at the brakes and beep to warn the driver to take evasive action.

5. Mazda CX-9

Can a family vehicle be fun to drive? Mazda seems to think so and has endowed the CX-9 with some of its trademark Zoom-Zoom. "The chassis and suspension are well-sorted and it drives like a much smaller vehicle," noted one owner.

Inside, you'll find a beautiful cabin with a clever second-row seat that slides to allow easier access to the third row. The optional rear seat entertainment system includes a 115-volt power outlet and audio/video inputs so that the kids can bring along a home video game system for long trips. There's also an advanced Blind Spot Monitoring system that uses radar to detect and alert you to vehicles that may be hiding just beyond your view.
You might be surprised to learn that this "German-engineered" minivan –
through a partnership with Chrysler – is actually a Dodge Grand Caravan with a few important tweaks.
This is great news if you're looking for a minivan with moves because VW re-tuned the suspension for a sportier ride. They also simplified the amount of options and made many helpful features standard. Dual power-sliding doors are standard on all but the base trim level, for instance.
You get the best of both worlds with the Routan: many years of minivan know-how from Chrysler and crisp styling and handling from Volkswagen. And though the Routan may cost more than it's counterpart from Dodge, you'll get Volkswagen's complimentary "CareFree Maintenance" plan which more than makes up for the price difference with free scheduled maintenance for the first three years of ownership.
The Grand Caravan was one of the very first minivans to hit the market when the modern segment was born in the 1980's and Dodge has continued to innovate since then.

One of the most popular features is the standard "Stow 'n Go" seating which allows the middle seats to be folded underneath the floor to make room for cargo. When the seats are up, their storage cubbies can be used to hide valuables. An optional "Swivel 'n Go" seat allows the middle seats to face backward so that kids can play games together on long trips.

If you're looking to save some money for the kid's college fund, you'll also appreciate that the Grand Caravan is the most affordable of all the full-size minivans.
If there's such thing as a luxury minivan, this is it. The Town & Country can be had with leather seats, a navigation system, power-adjustable pedals, three-zone automatic climate control, and rain-sensing windshield wipers.
Owners tell us that they were won over by the many multimedia options available to keep their kids happy (and quiet). This Chrysler has an optional DVD system, 3G-based wi-fi internet, and even a mobile television service that plays Nickelodeon, Disney Channel, and Cartoon Network. Where was all this stuff when we were kids?

9. Ford Flex

Sometimes taking the road less traveled is a very good thing. Ford challenged its designers to come up with a vehicle that was as practical as it was stylish and the result is the Flex. It's boxy, it's family-friendly, and it most definitely stands out. One owner bragged that her Flex "gets many questions and positive comments."

Beyond the unique rectilinear look, the Flex earned its place in the top ten thanks to an enormous and very upscale interior. There's a multi-panel Vista Roof option that bathes the cabin in natural light and Ford's excellent SYNC system to manage your media and phone calls with ease. Kids will have plenty of space to stretch out in back and enjoy the DVD player.

If you've got older teenagers in the house, you'll also love the MyKey safety system which allows you to set limits on the top speed and maximum volume for the audio system before you send Junior out on the road.

10. BMW X5
Coming in at the number ten spot is BMW's spirited X5. It may cost a pretty penny – starting price is around $47k and can quickly balloon past $60k with options – but this Bimmer can haul your family and carve corners with equal ease.

The parents who chose this BMW love the composed handling and aggressive looks. One reviewer explained that the X5 "makes you feel good. It's cool and savvy. It exudes confidence."

Due to a tight third-row seat, the X5 falls a bit short on family duty. But if you've got a small family and only need to use the third row occasionally, this BMW's taut moves and undeniable curb appeal will win you over.

Matt Cragin
Matt Cragin manages the community on car website Honk.com, enabling him to keep his finger on the pulse of automotive world. Always ready to chat cars, Matt can be found on Twitter and Car Blog.

Looking for the perfect car? Honk puts the fun back into car shopping with the latest information and opinions from real people like you.