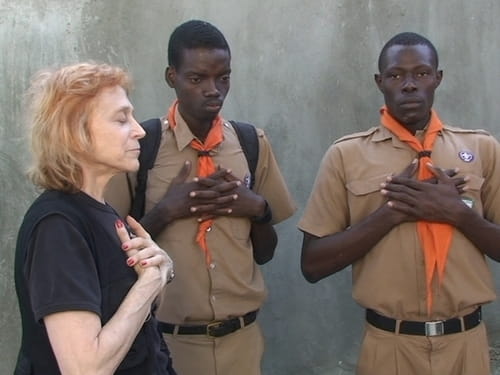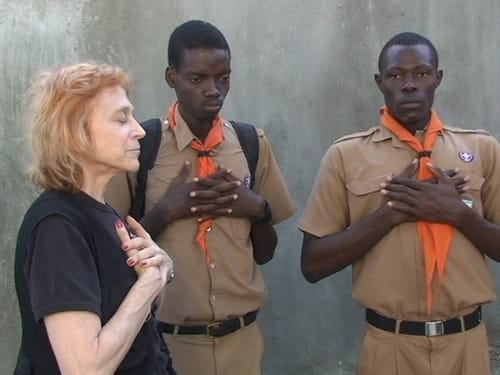 This leading American clinical psychologist was one of the first mental health experts on the scene after the Haitian quake. She shares her inspiring journey of training Haitian helpers to comfort survivors.
See Dr. Judy's photo gallery of images from Haiti.

Within five days of the news of the tragic earthquake, Father Wismick Jean Charles and I jumped on a Jet Blue plane landing first in Santo Domingo, the capital of the Dominican Republic, where we caught a six-hour bus ride to Port-au-Prince.
With all the tragic news about people being buried in the rubble, Father Wismick, a Haitian-born Catholic priest, had to see if we could retrieve the bodies of 10 of the young priests whom he had trained. He'd learned that they were trapped in the rubble of a school building that collapsed. Sadly, we were
unable to retrieve their remains
.
We came with five suitcases stuffed with medical supplies to deliver to a local hospital. We also planned to set up a system to offer "psychological first aid" to the Haitians who were suffering emotionally as well as physically. We set up camp at St. Louis King of France Church, a parish in Port-au-Prince related to Father Wismick's order, and stayed along with hundreds of parishioners in open air or under a tent in the churchyard. Like thousands of survivors in Haiti, we lived without running water, showers, or comforts. Food was scarce; fortunately the priests and nuns fed us rice and beans twice.
I had been to Haiti just a few months earlier with Father Wismick to oversee the development of a community center being built in his native village, Petites Desdunes, about four and a half hours from Port-au-Prince. It had been ravaged by the recent floods. As the main representative to the United Nations for a non-governmental organization, The International Association of Applied Psychology, I have been involved with many projects aimed at implementing the UN Millennium Development Goals, including efforts to eradicate poverty and AIDS, provide education, and combat violence. A year ago, we invited Father Wismick to join our team, and we committed to support his efforts in Haiti. Now in New York while attending Fordham University to get his Ph.D. before going back to Haiti, Father Wismick has become a cherished friend and colleague whose work I admire.
On the previous trip, we were enthusiastic and optimistic about building a brighter future for Haiti. The quake set all these efforts back dramatically and tragically, but made us instantly determined to go on a mission there, despite the dangers, to bring some healing and hope into the desperate situation. Once there, Father Wismick conducted many powerful prayer services, and we trained a group of young Haitians in a comfort program I designed to help others in dire need.
The scene upon arriving at Port-au-Prince was surreal, more terrible than what we had seen on TV. Imagine downtown New York, Paris, Shanghai, or Hanoi in ruins; that's how the center of town looked. The earth may have shaken from beneath, but buildings collapsed as if bombed from above. Cars, schools, businesses, and people were trapped underneath the rubble, encased in a silent tomb. Instead of houses, people were living side by side on blankets, brushing their teeth, washing their clothes, staring into nothingness, and sleeping on those blankets which staked their territory as a home.
I have worked at countless disaster sites in my life—9/11 in New York, the tsunami in Sri Lanka, Hurricane Katrina, an earthquake in Australia, bombings in Israel, and many others. But the devastation of the Haitian society was pervasive, with all aspects of society--education, government, religious, and other institutions of daily life, from day care centers to shops--destroyed. Whatever amount of time it would have taken for this impoverished country to get on its feet before, it would now require generations.
At first glance, people appeared to be coping, going about life, washing, praying, even selling goods in frenzied markets, but blank stares revealed the stage of shock that always comes in the immediate aftermath of a disaster. Research shows that even in resilient cultures, people suffer emotionally from the losses, especially when those losses are so pervasive. And even if most people in a culture are skeptical of talking about feelings, there are those who find it helpful. For example, as soon as one family heard that a priest and a psychologist were in the churchyard, the dad of a teen who had pulled herself out of the rubble, asked for a "session." Many of the parishioners who were not familiar with exploring deeper emotions welcomed the opportunity to explore the meaning of this terrible event. One such person was the psychologist in our church campground, Bob, who referred poignantly to his reliance on Viktor Frankl's "logotherapy"--a search for meaning in the midst of total disaster--which was the only way Frankl survived the holocaust.