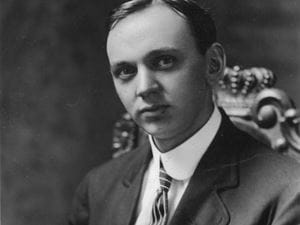 Public Domain
Edgar Cayce is one of the most enigmatic figures in American history, a man who was given the nickname, "The Sleeping Prophet," by a biographer for his ability to enter into an unconscious state and give psychic readings to those who came to him seeking knowledge.
Born in March of 1877, little more than a decade after the American Civil War, Cayce grew up south of Hopkinsville, Kentucky. He was one of six children borne by farmers Carrie and Leslie B. Cayce.
Even as a child, Cayce was unusual, and according to historian Dr. Thomas Sugrue's "Story of Edgar Cayce: There Is a River," he played with incorporeal "friends," and witnessed the appearance of his dead grandfather.
When Cayce was ten, he became interested in the Bible, reading it a dozen times over the next two years. At age eleven, Cayce, while reading his Bible in the forest, was visited by a "woman with wings" who asked him what the thing was that he wanted the most. According to Sugrue, he responded that he would like to become a missionary, helping others, especially sick children.
Later, after receiving a complaint about Cayce's classroom performance, Cayce's father struck him, knocking him out of a chair while testing his spelling skills. While on the floor, Cayce heard the voice of the winged woman, which told him that he would be helped if he would allow himself to fall asleep. He laid his head down upon his schoolbook, and did so.
Amazingly, when Cayce woke, he knew all of the answers. What's more, he knew everything in the book, and could recite it from memory. Cayce began obtaining information from all of his schoolbooks by sleeping on them. By 1892, Cayce was regarded as the best student in his school, and when questioned by his teacher about his newfound knowledge, he told her that he saw images of what was in the books without actually having to open them.
Sugrue writes that Cayce's ability to diagnose illnesses while sleeping arose shortly after this, when he received a spinal injury after being struck by a ball at school. When he fell asleep that night, he spoke the cure aloud, which his family applied as he slept, healing him.
This is the ability which would propel Cayce to fame in later years. For more than 40 years, he gave thousands of these readings, prescribing cures, revealing past lives, telling the future, and giving advice from beyond the material world.
To perform these readings, Cayce would put himself into a deep sleep, placing his mind, according to the Edgar Cayce Foundation, into contact with the universal consciousness, giving him access to all time and space. From the knowledge this connection provided, he could answer nearly any question put to him, but would remember nothing of the session when he awoke.
Cayce left school in the ninth grade because of his family's financial issues, and this hindrance would cause him to financially struggle for the rest of his life, taking odd jobs in photography, bookselling, and insurance before pursuing his psychic activities full-time.
His first experience curing an ailment through supernatural means came after he lost his voice to laryngitis. When placed under hypnosis by a New York hypnotist, Cayce described his own condition, but used "we" instead of "I," and claiming that the loss of his voice was psychological paralysis, and that increasing blood flow to his voice box would be the cure. When the hypnotist told Cayce to do this, Cayce's chest and throat became infused with blood, turning bright red.
When he awoke, he was cured.
Later, the hypnotist suggested that Cayce offer his services to the general public, to which Cayce reluctantly agreed—he feared prescribing medicinal cures that he would not later remember.
But despite this, Cayce soon became famous for his cures, attracting seekers from all over the country, and even prescribing cures via mail.
As his fame and numbers of readings grew, Cayce encountered Arthur Lammers, a wealthy man who with an intense interest in metaphysics. In 1923, Lammers convinced Cayce to give him readings on on the subjects of past lives and reincarnation, which were popular subjects in Cayce's time, but incompatible with Cayce's strong Christian beliefs.
When Lammers asked Cayce's sleeping form about these things, he received information that confirmed the existence of reincarnation and validated the field of astrology. When Cayce later learned about this, he was shocked, and began to question the source of whatever he channeled while in his sleeping state.
Eventually, Cayce assimilated all of these new ideas into his Christian worldview, the mixture of which planted the seeds for the modern-day New Age movement.
Cayce's most active period of work began in 1925, when he moved to Virginia Beach, VA, after hearing a voice during one of his trances which directed him to do so. It was here that he legitimized his practice, establishing a hospital complex which included a library, vault, offices, and a tennis court. Cayce hired a full staff that included chemists, doctors, and psychologists, and the waiting list to be admitted to his hospital was months-long.
Toward the end of his life, Cayce began to increase the number of readings, which began to leave him drained and fatigued, and his readings began to include statements about his own health—he was told to limit his readings to two per day, or he would die.
In August of 1944, Cayce fainted, and when he gave a reading to find the cure for his extreme fatigue, he was told to "rest until he was well or dead." He and his wife, Gertude, vacationed in the Virginia mountains, but Cayce suffered a stroke soon after, and passed away in 1945. He was 67.
Since his death, Cayce's Virginia Beach institution and teachings have only increased in popularity, and those interested in his life can visit the Edgar Cayce Association for Research and Enlightenment in Virginia Beach, where they can peruse the library and book store, get tested for psychic potential, relax in the health spa, and more.
Cayce's legacy is deceptively enormous—words like "spiritual growth," "soul mates," "aura," and "holistic health" were all popularized by his readings and teachings. Whatever you might feel about Edgar Cayce's legitimacy or holiness, he left a mark on America's spiritual history that can still be seen today.